Social media for Indie musicians
Before we start, and like all my other articles let me first say, 'I am not a marketing guru' I am here NOT to give you a spiel, but to just share my experience and hope to connect with you soon.
There are always people and the little voice inside your head which tells you to go follow your dreams, pursue your hobbies as your careers (very debatable btw.) And after the movie 3 Idiots, everyone's kicked about doing so. Well, not to hide here, so am I. A musician since the age of 10, playing a variety of instruments, I also had this & still have this dream. But let's face it. It all depends on how good you are at your skill, and the ultimate question. How are you going to earn your daily bread & butter? This is something which will haunt you & will have your parents & loved ones taunt you, every single day. But that's where the world of social media comes to the rescue.
It's already in the name, "Social media". So if you are a musician / singer reading this… get out from that bathroom singer mode & get into the social media mode! But before I go any further, I would like to acknowledge all those musicians who have taken up music as a full time hobby, would not like to say business, because a musician will always compose or sing for the love of music & nothing else. Kudos to you guys!
So let's get started.
1- Are you social?
Stupid question? Yes! But the answer may vary in terms of how social you are. So even if you are social, get more social. Leverage your existing Facebook / Twitter & other social networking sites which you are comfortable with & get the word out which is, "I have a passion for music, and I just want to let you know." That's about it! Let this statement scream out loud in your Twitter, Facebook, YouTube, bios. Please do not upload corny pictures of yourself literally posing with a guitar etc. Be cool, or I'll have the music fraternity on you soon!
Let me give you an example of how social you should be. I was once tweeting and just happened to receive a mention with a retweet of a tweet I had posted from a handle @Karvel_Joe, which btw was not spam but just a general comment to my tweet. Out of curiosity, I checked out the profile & he turned out to be a musician, playing with a band called Karvel. He had handy YouTube, Facebook links where his music was uploaded. I checked it out & I really liked the genre they play. Similar was the case with another artist, @shivpreetsingh, an Indian living in California, still stuck to his roots & passions. He makes some wonderful music! My point here is, Google, Twitter, Facebook can help you come across so many people who are either musicians or who love music, waiting like me, to discover new genres & sounds. The question again is, 'How social are you?'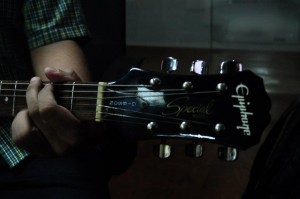 2- How to market the artist in you?
The first point actually covers it all. But here's how you market yourself and the artist in you! Remember the key is to "be yourself." Start by being absolutely natural. If you choose Twitter, don't let every tweet be about you & your music. The whole concept about social networking is to share. Hence, share your knowledge about a particular artist or genre you like. Connect with people when you tweet with the trending hashtags. Do not hesitate to follow people. Give them follow Fridays. Share links of articles, music & other content you like on the www! Check out Blackstratblues on Facebook(https://www.facebook.com/Blackstratblues)/on twitter @blackstratblues. Content posted here is very natural, engaging & enriching. Remember, people want to be connected to and not marketed to.
3- Your stuff, out there!
There are many tools over the www which you can leverage for your compositions to get your stuff, out there! Let's start with the infamous YouTube: All you need here is a good camera & you got your stuff out there! Create a profile & have your stuff, out there! Who knows, if your content is extremely good, you can sign up for YouTube partners where you get some dough for the content you upload on the network. YouTube is your ace right here, to let the world know you exist! Kina Granis, Justin Bieber (even though there's a negative fan following for him), became famous only because of YouTube!
Facebook: Create a Facebook fan page & install application like 'Band Page' by ReverbNation. This app lets you upload your songs in a playlist which can be made a landing page. New visitors to your page can listen to all your songs / videos uploaded there! Also having a SoundCloud account is another way to get your stuff out there! The one thing I love about SoundCloud is that people comment on a part of the song they like which is then noticeable when you play the song, thus ensuring you positive & negative feedback!   On your Facebook page, the same rule applies i.e. to be yourself and not market yourself too much. Also, if you have the budget, you can draw a larger crowd which is your target audience to your page via Facebook PPC campaigns.
Twitter: Just Tweet! This is by far the best medium to direct others to the above. Have your Facebook/ SoundCloud/ YouTube links in your bio on Twitter. So just like me, someone will definitely want to check who you are & discover what you are!
This again is not some "gyan" session but as I was writing this, I just realized that I myself am not leveraging my time well for my music. So I shall end by saying, "Stop cribbing & start practicing!" It would be a real honour if you happen to apply some of these social media tips for your music and get in touch with music lovers across the world! You can get in touch with me @socialmunky on Twitter, www.youtube.com/hashishdz on YouTube or write to me at ashish.dsouza@ethinos.com.