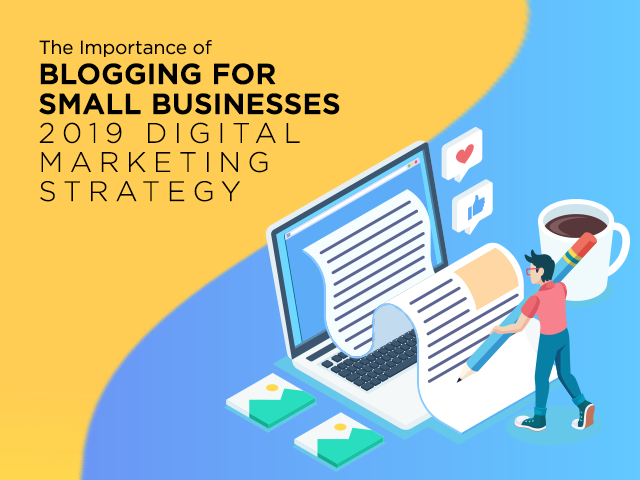 The Importance of Blogging for Small Businesses 2019 Digital Marketing Strategy
As the New Year approaches, now is the time to reassess your digital marketing strategy, catch on to the most defining trends of the year ahead, and look for opportunities for improvement. And we'll say it straight out: if you're running a small business and don't have a blog section on your website, starting a blog should be your number one digital marketing priority for 2019.
If you think your business is too small for a blog or that the endeavour isn't a sound investment, we're here to show you why that's not true. In this post, we'll talk about why blogging is an invaluable digital marketing tool for small businesses and why it's never too early to start.
Build authority
You've undoubtedly noticed numerous businesses with impressive blog sections on their websites. They provide quality content for their audiences and exhibit their vast expertise within their respective industries. Now, that might look intimidating to you, but the fact of the matter remains that quality content and expertise aren't conditioned by the size of a business – and a blog is a cheap and efficient tool which allows you to prove this.
As a small business, you want to show that you're an expert in your industry and build authority. By providing your audience with valuable content regarding your industry or certain niche areas, you'll essentially be building trust and helping them establish confidence in your brand.
Connect with industry experts
In direct relation to the previous point – as you establish authority within your respective field, you put your brand out there not just for your target audience, but for other small business owners, industry experts, and niche influencers. A blog gives your small business a voice, and once you have that, you're ready to network successfully in the vast digital space. You'll find there are valuable opportunities to connect with industry experts and relevant personas everywhere – on social networks (Twitter especially), in the comments section, or by reaching out to them and offering to guest post on their blog.
Build brand awareness and drive traffic to your site
Through blogging, you have a unique opportunity not only to establish your authority as an expert, but also to showcase personality and boost brand awareness. These are all crucial to establishing a strong brand image and forming a fruitful relationship with your audience – a relationship that will cultivate trust and help turn followers into customers.
Social media plays a central role as the ultimate channel for building a following and maintaining your brand image. When you pair a strong social media presence with a blog, you have one of the most powerful tools out there for driving traffic to your website.
Boost your website's search engine rankings
Blogging is an absolutely essential tool for SEO (search engine optimization) and businesses who are leveraging it effectively are able to see the fruit of their labour when they find their websites on the first page of search engine results. With improved search engine rankings and the potential for making it to the first page, your brand's visibility will be enhanced multiple times over, and you'll have a chance to put your competition far behind.
However, SEO is not a set-and-forget kind of deal, but rather a continuous process that entails both optimizing blog content and generating backlinks through guest blogging. You can't see results overnight, but with time, your SEO efforts will prove vital to driving traffic to your website.
Build your email list and maintain your audience's attention
An oldie but a goodie, email marketing still remains a valuable and efficient marketing tool for businesses small and large. Whether email marketing is already a part of your sales funnel or you plan to implement it in your strategy in the near future, a blog is the ideal companion to complement your strategy – and vice versa.
Firstly, when people land on your blog, check out your content and see that it provides value for them, they'll be more likely to subscribe to your mailing list afterward – because there's something in it for them, such as a monthly newsletter with fresh blog content related to their personal interests. This way, you'll have captured a much larger number of leads than your website could on its own.
Secondly, incorporating a newsletter into your email marketing strategy helps you maintain your audience's attention. It helps you ensure your prospects keep coming back and cultivate an interest in your brand. By combining the two, you'll have a powerful tool for building trust, driving conversions, and boosting customer loyalty.
These are some of the most important benefits of blogging for small businesses – the things that need your immediate attention when you look over your marketing goals for the year ahead. All in all, a blog is a valuable tool for driving growth and once you dive into it, you'll continuously be finding new opportunities and ways to supplement your digital marketing strategy.
Although web design is Catherine's formal education, marketing, business management and business growth in this digital age are topics Catherine is quite interested in lately. She has been researching and learning for some time now, and she is always happy to share her knowledge and inspire others by writing some quality content.