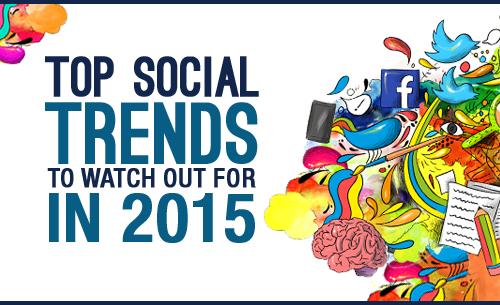 Top Social Trends to Watch Out for in 2015
2014 gave us some astonishing news and trends in terms of social media but now, 2015 is here! And with every passing day, forget year, social media sees dramatic and versatile changes. In this past one year the social marketing industry has seen various factors that dominated the digital world. But this article is all about what trends we should watch out for in the year 2015.
1.Focus on Mobile Marketing will increase by leaps and bounds- 2015 will see a shift from digital marketing being mobile-aware to mobile-first.Mobile marketing shouldn't only be used for campaigns or contests via Instagram. The websites, social posts, and everything else should be accessible from a mobile phone. In fact, a survey states that overall daily active users grew by 8 percent in 2014, mobile daily active users by 15 percent while mobile-only daily active users grew by 34 percent.
2.Content will be built smartly – Content marketing has been an integral part of Digital marketing and 2015 will see this trend be carried forward to the next level.Content must be meaningful, informative, qualitative as well as quantitative. Be smart and produce rich content and do not be satisfied with just that. Find out ways as to how would you leverage it in multiple ways. Authentic and creative content will any day be highly shareable. For example, a regular piece of paper can be made into a painting, PPT slide, or just a scribbled scrap. It depends on how you plan to squeeze value out of it.
3.The rise of Vines & Instagram as video curators– Videos aren't just a YouTube phenomenon any more. Ever since Vines and Instagram videos happened, the attention enjoyed by YouTube has reduced. Their short time bound video format has seen great success in an overcrowded on-line world.Though YouTube still holds an important place, producing high quality videos is expensive and difficult. And we are going to see a steady rise in Vine and Instagram based Video Marketing campaigns.
4.Blogging is going to become serious business- Blogging has become more important to social marketers in the last few years. It has climbed from the number four spot in 2012 to number three in 2013 to number one in 2014 in terms of importance. There is already a lot of content out there which isn't read in spite of readers available. 68% of marketers are planning on increasing blogging in the future. The challenge is to not just create content but making it reach wider range of audiences.
Do you agree with the above mentioned points? Do you have anything to add to either of the lists? Tell us. We are listening.