10 Commandments of Social Media for Businesses
So you've finally decided to get your business online and go digital. What next? How do you go about planning and implementing a digital marketing strategy that really adds value to your business?
The 10 Commandments of Social Media for Businesses is a set of guidelines that will let you coordinate and collaborate with your social media agency to create content that interests and engages your audience and achieves the goals and objectives defined for your digital media strategy.
The essence of this document is to convey the importance of being on the right social networking platform, speaking to the right audience, and not being apprehensive of social media just because you are likely to make a few mistakes.
It is important that you see social media in the right context, i.e. an opportunity to strengthen your brand communication and complement the marketing efforts you are already putting in, in order to eventually meet your business objectives more efficiently and effectively. Social media marketing is not and can never become a substitute to actual face-to-face interaction with your customers, but it can definitely make interactions a lot easier to manage and coordinate.
So go ahead and explore the numerous social media platforms, tools, and apps; find out what works for you! If you're looking at employing the services of qualified digital media executives to plan, execute and monitor your digital marketing strategy, you can get in touch with us at Ethinos Digital Marketing.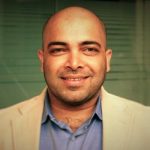 Marketer, Maven, Mentor. 3 Ms that define Siddharth Hegde, a.k.a. Sidd, Managing Director of the effervescent and ebullient Digital Marketing Agency, Ethinos. He tucks in over 18 years of sales & marketing experience under his belt, gathered from Fortune 500 and other inspiring companies that he has worked with. Sidd is a technology zealot since almost two decades, keenly tracking the interplay between technology, design, and usability across products and services. He brings to the table an industry understanding & background in digital strategy formulation & implementation. In his free time, he enjoys sailing, scuba diving, white water rafting, trekking, and seeking out the outdoors.