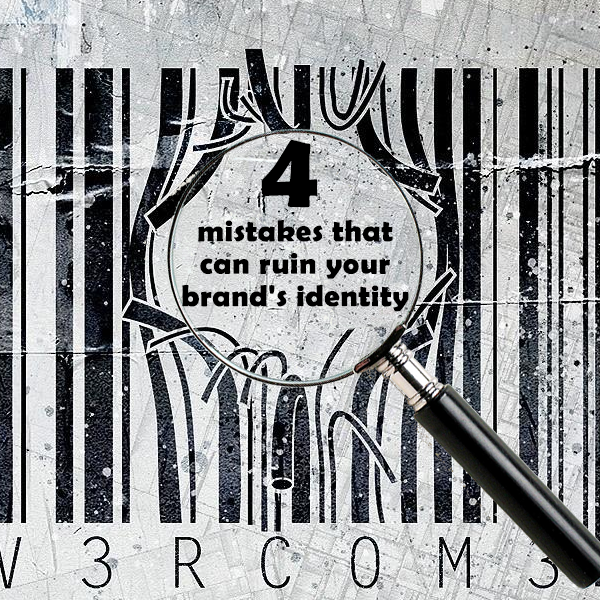 4 Mistakes That Can Ruin Your Brand's Identity
We were born to be real not to be perfect. Nobody is perfect in this competitive business world that's why pencils have erasers. Similarly, some mistakes can really goof up your brand. Nobody has the ability to make things perfect but we are given a chance to make it better.
Watch out, are you committing the same mistakes?
1) Momentary Goals
This is one of the basic problems which companies commit. To achieve short term goals, they try to ignore their core values and end up crashing their brand image. Thus, ignoring to attract the right prospect and failing to create customer satisfaction.
In the words of Dr. Philip Kotler, "It is more important to do what is strategically right than what is immediately profitable".
2) Inaccurate Positioning
Products come and go. Some products create an impact and others fail miserably. Wrong positioning of a particular product can end up crashing your brand image.
Positioning owns a piece of consumer's mind. Positioning is not what you do to a product; it is what you do to the mind of the prospect. Over positioning, under positioning, confused positioning are some of the errors that brands commit every now and then which affects the brand's identity in the long run.
Brand extension can be successful, but it depends on how you do it. Long ago, think about Colgate's kitchen entry. What comes in your mind when you hear about Colgate? What was the company's logic? Can the consumer eat a Colgate meal and then brush their teeth with Colgate toothpaste? This product failed miserably and was pulled from the shelves.
3) Niche Marketing
Niche marketing is aimed at a big fish in the small pond instead of a small fish in the big pond. Sometimes organizations end up doing wrong targeting. Companies should be able to anticipate a specific segment that is likely to buy their product, target that market and plan the product accordingly. Niche marketing can be very profitable, but it depends on the audience.
Let's take an example here. Toyota, one of the top brands in automobile industry came up with an excellent niche marketing plan. They were the pioneer to realize a group of people who would be interested in eco-friendly cars. Similarly, they launched Toyota Prius – one of the first mass production hybrid cars. Toyota Prius is still highly regarded as the niche leading brand.
4) Customer Satisfaction
This is one of the basic and most important problems which companies needs to overcome. Most companies today focus more on Sales – Push, Push, Push and at the end it fails to give customer satisfaction. Services not only depend on after sales service but it's a much broader concept which includes identifying the potential customer and creating a brand image.
The best way to create customer satisfaction can be:
•Connect with your customer
•Discover what they want
•Know what you can do
•Follow up
•Thank them
Apart from these, are there any other mistakes that you can think of? If yes, comment and tell us now!
Sources-
Saleshq.monster.com
Smart Marketing LLC