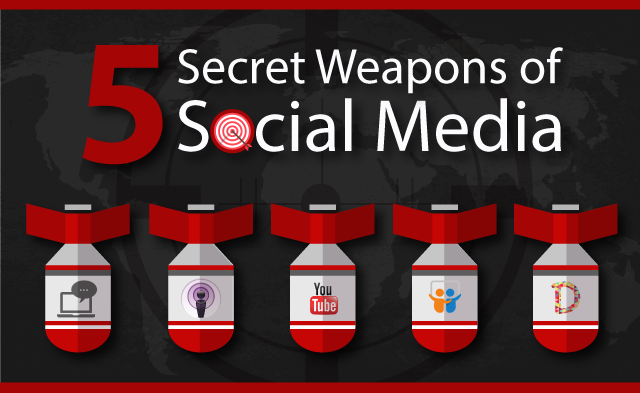 5 Secret Weapons of Social Media
A day without internet, No way! Half of the time people spend is on social media either checking their Facebook status or commenting on WhatsApp. People always keep on creating hype about social media. Evolution of social media has always been tremendous since the scratch. This takes me back to my childhood where there was no social media, I didn't even know what social media was all about, all I knew was the television because I used to love watching Mogli and play the video game Super Mario. Media definitely has made a big journey from radio channels then the television channels and now the social media platforms. I think now the entire world is active on social media and now even the companies prefer or are quite optimistic about this medium.You can read here on ways to amplify your brand's social presence. Moving further whenever we talk about social media what comes in your mind undeniably (Facebook, Twitter, YouTube, Instagram, etc.) but it's actually more than that. Digital agencies surely have an upper hand on this domain but they need to look for the secret weapons which can be used in social media instead of sticking onto commonly used online marketing activities like SEO, social media tools, pay per click models, email marketing, etc.
This blog will surely help those lesser known audience about the secret weapons of social media and how it can be useful for the companies to deliver better results.
1. Webinars
It's always said that technology moves faster in this world, sometimes it is harder to keep pace with how it can be helpful. Webinars will help you improve your business. It is a kind of video online which has a unique power that enables viewers to learn something which they may not have already known and it can be useful through visuals and sound. Training the employees is one of the important aspects and helping them learn new skills should be given much more preference – webinars can help you with this, similarly webinars will be much more effective as it can cover wider range of audience, all you need is laptop and internet connectivity. Companies nowadays prefer webinars as it can help improve your business and sales and it is also cost effective.
2. Influencer Outreach
Influence can come from wide range of places. Fortune 500 companies call it as native advertising. Companies mostly prefer celebrities to market their product.
For e.g.:- 1) Rafael Nadal was paid $525,000 to wear a watch at the French Open
2) Tiffany & Co. paid Anne Hathaway $750,000 to their outfit at the Oscar
From celebrities to corporate guys all can come under this category but they all have different points of view as they fall in different genre. Bloggers can also be labeled under this. When a blogger recommends a product, it seems more trustworthy than the traditional advertising. Companies mostly prefer influencers to avoid skepticism, similarly LinkedIn influencers – they talk and discuss on various topics like leadership management, hiring, how to succeed etc.
3. Slideshare
You can term Slideshare as one of the key secret weapon of social media, as it has a wide range of audience and can definitely reach to a larger group of customers. As per the survey by Convince & Convert, 15% of social media marketers are using Slideshare and rest 85% of social media marketers are missing out a fantastic opportunity. Slideshare is more popular with B2B marketers compared to B2C. Even if you write a short, readable, engaging content you can easily tap Slideshare traffic potential.
4. Podcasting
Podcasting is a form of audio broadcasting on the internet. This happened with me, when I first heard podcast, I was in dilemma; I didn't understand what made it different from simply searching and downloading the music files like I had been doing over the years with mp3. Podcast is an MP3 or other audio file delivered of a website via RSS feed. RSS is easy to use, once you understand the tags. Currently people who are familiar with podcasting are tech savvy, but it can be much more beneficial in various ways as businesses are now adopting it as a tool for employment.
5. Dubsmash/Instagram Videos
Videos! Yup, videos can also be a secret weapon of social media; Video marketing is definitely a hot topic, if it is used in a correct manner. YouTube definitely is the pioneer but apart from that Twitter also has its own tool called Vine – to make it easy to create and share videos. Even Instagram videos can be used to market depending upon the visual content as it should appeal to the target audience. Similarly, there's quite a lot of buzz about the Dubsmash videos; numerous celebrities have been joining the Dubsmash craze and mouthing iconic Bollywood dialogues and songs.
According to you, which of the above can be your secret weapon on social media that would be beneficial for your organization?
Sources-
Convice and Convert
Digital Vidya
Spice Works