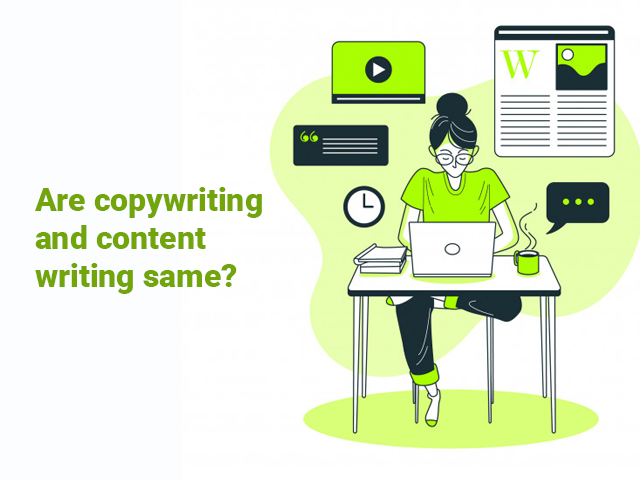 Are copywriting and content writing same?
Words hold a lot of power. Words have the power to repel or attract. Words, spoken or written can convince or deter a person. Before any other marketing technique even existed, words were all that were. Marketers used the "art of words" to entice their potential customers.
With developing times, words were not just words but converted into infographics, pictures, pie charts, videos, presentations, posters. Different techniques came into existence but what still remains the same are words: THE CONTENT. It is not wrong to call content the king.
Marketing is a combination of science of applied theories and principles as well as art; Art of persuasion. Content refers to the material contained within what we write and the meaning that it holds.
In digital marketing era, content has taken different forms of Videos and Infographics, Blogs, EBooks etc.
However, if you mention digital marketing and automatically swing to "content writing" you definitely would come across the term "copywriting". The question here is are "content writing"  and "copywriting" the same thing?
First of all,
What is content writing?
Content writing is the process of planning, writing and altering or editing the web content. It is mostly for Digital Marketing purposes. It consists of blogs, scripts for videos, articles etc. It is definitely not just confined to writing of article but is broader than that.
Content writing is necessary for different content formats, like: –
YouTube video descriptions
Email Newsletters
Landing pages
Social Media Posts
In simpler words, it is like a backbone to what you publish. It requires skills.
What does a content writer do?
A content writer steers the creation of engaging content. A content writer is responsible for adding worth by actively captivating and engaging the customers or stakeholders and maintains a voice for the brand that is cohesive.
What is copywriting?
Copywriting can be defined as a process of writing "advertising promotional material". Copywriters are the ones responsible for brochures, advertising mails, ad campaign's content, catalogs, brochures and more. We can also call it as salesmanship in print.
What does a copywriter do?
Basically, a copywriter would write a material or the words that would cause people to take action. He creates sales through words. He writes words which make people buy, sign up, call your business for inquiry.
What makes a copywriter and a content writer different from each other?
Typically, a content writer is someone who writes articles, blog, content for newsletters, reports, ebooks etc. A content writer is not a copywriter. Content writers usually write to "inform" and copywriters write to get people to take an action.
Here are key differences between the two: –
Copywriter
Content writer
Ø  Tries to balance the words used in through user friendly language.

Ø  Ease commercial negotiation by providing reachable brand voice.

Ø  Aims strengthening the personal relationships between brands and people by conveying emotion.

Ø  A copywriter is a listener. He listens to his potential audience in order to understand their point of view and how to talk to them.

Ø  He makes sure that the word he puts out closes the deal. His writing is goal driven and actionable that persuades and entices consumers.

Ø  A storyteller. Makes your business journey a strategically formed content.

Ø  Produces such articles that build influence overtime rather than overnight or immediately.

Ø  They handle content calendars to ensure that writing is timed out strategically and turns to be effective.

Ø  They provide answer to questions and provide information rich content with high SEO worth.

Ø  They are intricate in their writing. From social distribution to buyer persona, they consider everything like a piece of puzzle.
What is the benefit of the two?
Importance of Content Writing: –
Helps in building awareness of the brand
Information rich content helps in SEO
Good content can earn links for your business from other websites
Good words are spread; good content is shared
Great content can retain your consumers
Importance of Copywriting: –
A copywriter creates selling power
Creates a conversation between business and customer
Boosts response
Builds profits
Improves search engine ranking
Slashes marketing costs to some extent
Wait, then what does it mean by Copyright?
Copyright is the legal right to control the production and selling of a play, film, book, song, video, a written article.
What is the difference between Copyright and Copywrite then?
Do not get confused between the two. They are entirely different terms as well as hold different meanings. They are mere homophones.
Remember, a copyright is the ownership a person has of a creative work he has produced. On the other hand a copy of a copywriter is the creative work.
Conclusion
Content writing, copywriting and copyright are either from similar family or similar sound but are completely different in their virtues, importance and meaning. However, copywriting or content writing, both are important to Digital Marketing and hold value.