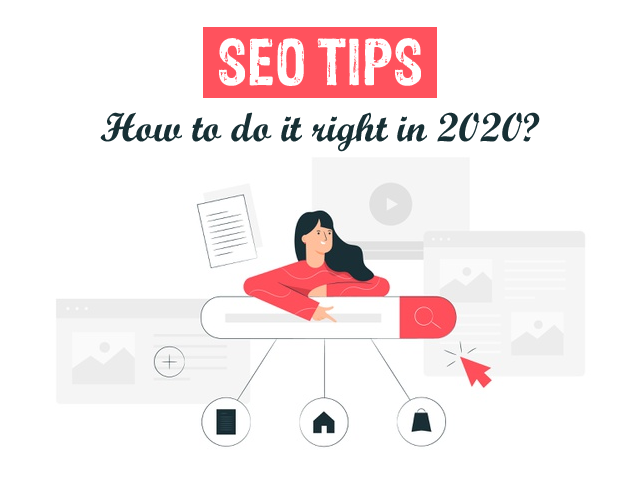 SEO Tips: How to do it right in 2020?
You may have the most amazing website loaded with advanced features, offering a remarkable experience to the users, and developed on the latest technologies. However, unless your target customers can find you in Google's vast resource pool of 1.71 billion websites worldwide, you don't potentially exist for them.
Having said that, marking your presence in the ever-evolving digital arena is not an easy task. Not only do you have to stand above your competitors ruling the search engine rankings but also maintain that position. If you are still unsure about the value of SEO, here are some research highlights for you:
As many as 67K Google searches are done every second

39% of the entire global eCommerce traffic comes from search engines

93% of online experiences begin with a search

80% of the users ignore paid ads
And to appear among these searches, SEO comes in to help you out.
SEO or Search Engine Optimization is the digital marketing process where web pages and content get ranked on certain factors by the search engines. It assesses websites and its content on multiple parameters like:
Latest Google SERP feature

Audience and user intent

Google word trends

Mobile optimization

Social media
Nailing your website's SEO is one of the most critical aspects to reaching out to more clients and, hence, increasing your revenue.
Here are some expert SEO tips and tricks for your website.
#1. Relevant Data
Your audience lands on your website to seek a piece of information. And if you can't give them what they want, they will simply flee and adversely impact your search engine rankings. So first and foremost, focus on quality and relevant content. Google has time and again emphasized on content quality instead of keyword stuffing. Make sure you target the right audience, deliver the right message, and, there, you have your first job done.
#2. Mobile Indexing
Over 58% of the online searches is from mobile. And that's why you need to work on delivering the best experience via mobile. Make sure you optimize your website to provide value via mobile devices. Being rich with high-quality content and AMP version compatibility is a must-have criterion to rank your website higher on Google.
#3. Page Loading Speed
Google recommends the optimization of your page load speed as one of the top-ranking factors. It measures the time explicitly to the first byte when it comes to the page speed. Furthermore, slow speed would mean that the crawler will take longer to crawl the page, thereby decreasing the count, which could negatively impact your indexing. Moreover, slow page speed hampers your customers' experience.
#4. Include Videos in Your Content Marketing
Content is the king, and so often, there is innovation in the content arena to help content marketers hone their strategies. Video marketers receive as much as66% more qualified leads annually (Source). Therefore, if you still have videos as part of a future strategy, the time has come. With the potential to keep your consumers hooked to the page, videos offer a great way to enhance your web experience.
#5. Say Hi to Voice Search
By 2020, voice search is estimated to account for 50% of the total searches.
And why not? AI and chatbot's rule in the market clearly states the entry of voice search in SEO. Make sure you optimize your content for the voice search. Explore the questions that your customers might have and provide their answers. Make sure your content is easily readable and can be understood easily by users. And, there, you have your job done. 
#6. Rich Content Snippets
Rich snippets are nothing but the additional data displayed in the Google search results. This data is usually pulled from the structured data found in the page's HTML. ‌ ‌Amazing content contributes to your popularity on the web. But as Google SERP says, make sure you start making your mark within the first 100 words of your content. Make sure it is readable and simple to understand.
Take-home Message
Upgrading your website's SEO strategy while incorporating the tips mentioned above are going to yield you significant sales over time. However, it is worth noting that SEO results are gradual. You just need to keep doing your job diligently and the results will definitely follow.