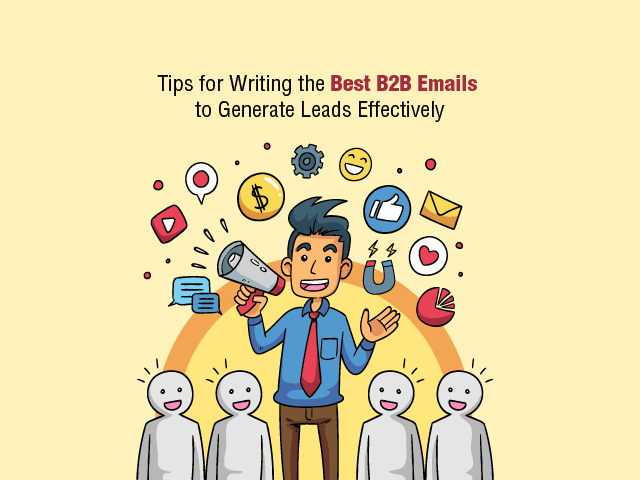 TIPS FOR WRITING THE BEST B2B EMAILS TO GENERATE LEADS EFFECTIVELY
It might seem surprising to some of us but emails still remain one of the most effective marketing tools. Investing time and efforts into an email writing isn't simply still worth the time – it's actually very important for everyone who wants to generate more leads and make the most out of their marketing strategy. Now emails are considered the third most influential source of information for B2B audience, left behind only by the thoughts of industry experts and colleague recommendations. And if you still aren't persuaded enough, just look at this email marketing campaign stats provided by MailChimp and see for yourself.
Of course, this works only when the emails are written well enough – and that's not easy to achieve. Sometimes even one flaw (for example, a poor headline) can lead to your emails sent straight to trash without even being opened.
In some ways crafting a good email is similar to choosing strong persuasive essay topics – you need to keep all the details in mind, take your time, and double-check before you submit the final version. However, it's totally possible, especially if you remember the tips we want to share with you.
A subject line has to be powerful.
People receive plenty of emails these days – probably much more than they could afford to read without sacrificing their productivity. So it isn't surprising that most of them decide to open an email based on its subject line. In fact, 33% of people receiving emails open them basing on the subject line alone, as researchers show. And it's the exact reason why you should focus on making this subject line as powerful as you can.
You simply cannot afford it to be weak. While a subject line still has to be concise and not long enough, it has to immediately engage the readers, raise their curiosity, and so on. It also has to relate to the contents of your letter, otherwise, the readers will be disappointed. A lot.
Your email has to look real.
Of course, it depends on your niche a lot but most of the times emails don't have to be very formal. It's okay to add some humor, to let your personal style show, to make the emails more personal in general.
This is important for two reasons. First, such emails definitely would be more interesting to read. Second, emails that are too formal or simply less personal often look like the ones made for an automated email campaign. This doesn't increase your customers' loyalty at all.
Your email needs to be easy to scan.
A study conducted by Litmus in 2016 shows that 54% of all emails are opened on mobile devices. This means that most of the emails look much bigger and impressive than they do on laptops or PCs.
Knowing that allows marketers to tailor their email design to mobile devices mostly: make images scalable, don't use too many of them (otherwise, they might take too much space, distracting the readers' attention from the rest of the text), and so on. But what's even more important is to make your emails' texts easy to scan as well.
Use short paragraphs, lists, catchy subheadings, and so on. Make the most out of the formatting and ensure that your readers will understand the meaning of your email even if they read it very quickly.
Your email has to encourage your target audience to act.
You write emails mostly because you want your customers to do something – make a purchase, use a discount, sign up for a trial, etc. And while your goal might be obvious and easy to understand from the text of an email, some additional emphasis definitely won't hurt.
While your audience might know what you want from them, they still might hesitate to act unless you encourage them to. That's why it's so important to include a proper call-to-action in your email, making it as obvious and encouraging as possible. The best way to do so is to try thinking like your target audience does. Think of what you would need to read to act if you wear them – and tailor your CTA to this.
It's also important to mention that your readers need to act as soon as possible (or an offer might expire, for example). Sometimes they might want to perform an action but could still hesitate – and your reminder is all they need to make a final decision. According to the statistics provided by WordStream, emails with a single CTA increased both sales (1617%) and clicks (371%).
There are different types of emails and you probably know it well enough from your own experience. You send some of them in the trash without even opening – and you actually read the others because you like how they're written.
Try to define what's the difference between them. What makes the first ones so boring for you and the second ones so engaging? Then try to use this knowledge along with the tips listed above to create your own stunning emails!
Kevin is a professional educator and a private tutor with over 8 years of experience. He is also a content writer for various blogs about higher education, entertainment, social media & blogging. During his off time, Kevin enjoys traveling and cooking.