A sound digital marketing strategy – your chance to level the field!
"Digital Marketing is like teenage sex, everybody's excited about it but very few people are doing it well." – Keith Weed, CMO, Unilever Global
Are you one of those who aim to get it right when it comes to digital marketing strategy? Do you belong to the B2B space and look at social media a little too sceptically? It's about time you opened your eyes changed your mind.
Because social media is word of mouth on steroids! Conversations are happening, with or without you! And whether you like it or not; people are talking, for you as well as against you! It only makes sense to join the conversation!
A Primer on Digital Marketing in India will give you vital insights in terms of statistics about internet usage, usage patterns, social media statistics and models for B2B companies, etc.
It also gives you much needed information about some best practices you could follow, business models, and tips to be kept in mind while planning and executing your digital marketing strategy. This primer could also be a good starting point of reference while dealing with your social media agency and ensuring that it really is giving you not just the best return on investment, but also on engagement.
For any further clarifications, queries or explanations, you can always get in touch with us at Ethinos Digital Marketing.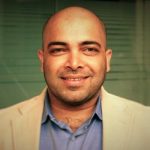 Marketer, Maven, Mentor. 3 Ms that define Siddharth Hegde, a.k.a. Sidd, Managing Director of the effervescent and ebullient Digital Marketing Agency, Ethinos. He tucks in over 18 years of sales & marketing experience under his belt, gathered from Fortune 500 and other inspiring companies that he has worked with. Sidd is a technology zealot since almost two decades, keenly tracking the interplay between technology, design, and usability across products and services. He brings to the table an industry understanding & background in digital strategy formulation & implementation. In his free time, he enjoys sailing, scuba diving, white water rafting, trekking, and seeking out the outdoors.