Do B2B companies really need a digital media strategy?
Social media, through its very nature of being interactive and conversation based, makes a very strong case for itself when it comes to marketing products and services to consumers.
However, if we were to look at B2B companies, there is still a sense of apprehension or scepticism regarding the potential of digital media to generate valuable business leads or conversion. Most B2B driven companies share a common outlook that digital media is too frivolous to address the serious and slightly more complex B2B communication.
Sound analysis, though, reveals a very different picture. There are various aspects of digital media that can prove very effective for B2B marketers. Considering that all B2B marketing is at its fundamental level, relationship building; a sound digital marketing strategy can allow companies to tap their audience at a variety of touch-points like portals, forums, specific social media sites, etc.
Building the Case for Social Media in B2B Companies throws light on the various ways in which B2B companies can leverage social media and B2B search engine marketing to their advantage.
Do take a look. It might give you an effective new perspective on marketing your business.
If you are looking for a social media agency that specializes in B2B focused communication; we, at Ethinos Digital Marketing, are more than happy to work out a sound and effective digital marketing strategy that helps you achieve your business goals and objectives.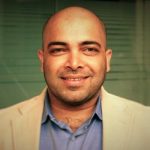 Marketer, Maven, Mentor. 3 Ms that define Siddharth Hegde, a.k.a. Sidd, Managing Director of the effervescent and ebullient Digital Marketing Agency, Ethinos. He tucks in over 18 years of sales & marketing experience under his belt, gathered from Fortune 500 and other inspiring companies that he has worked with. Sidd is a technology zealot since almost two decades, keenly tracking the interplay between technology, design, and usability across products and services. He brings to the table an industry understanding & background in digital strategy formulation & implementation. In his free time, he enjoys sailing, scuba diving, white water rafting, trekking, and seeking out the outdoors.