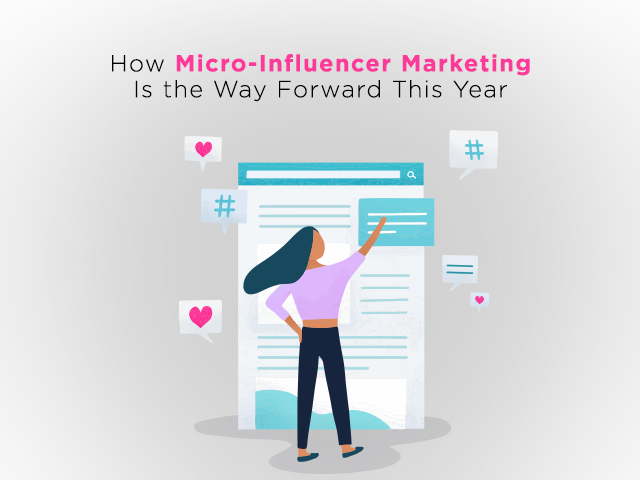 How Micro-Influencer Marketing Is the Way Forward This Year
There are several ways to market your brand on Instagram. Probably the most successful method of marketing in recent times is influencer marketing. Associating with celebrities and other influential people is a great way to promote any business.
You should understand that when you use the popularity of these celebrities for business promotion, your budget needs to be high. If you don't have a big budget, you can consider using the celebrity status of micro-influencers. Micro-influencers are a lot more approachable and offer better bang for the buck than prime influencers.
The future of digital marketing now lies with micro-influencers.
Who are micro-influencers?
Micro-influencers are people having niche followers of about 5000 – 50,000. The followers trust their views, thoughts and opinions, and also participate in discussions initiated by them. The credibility of micro-influencers is due to their passion in their niche subject, which has also developed trust and favoritism among their audience.
Micro-influencers engage with their followers frequently and are able to influence them for purchasing a product or using a service. You can expect an engagement of up to 60%, a low budget, and a weekly conversion of more than 22.2% by hiring micro-influencers for your business promotion. You should understand it is not the number of followers that matters to your business, but the number of people engaged in the promotional content and also the quality.
Here are some of the benefits you should know about micro-influencer marketing:
Higher engagement from niche audience
As mentioned earlier, audience engagement only can bring success to your business. Since micro-influencers are dealing with a niche audience, you can select them based on your business niche. When compared to celebrities and macro-influencers, micro-influencers have a higher interaction with the followers as they are more approachable than the other two.
So, when they agree to share your brand story on their feed, their followers will listen and engage in conversation regarding the newly launched product. This exposure will help you to reach potential customers within a short period.
Increase the authenticity of the marketing campaign
Since micro-influencers are real human beings without having a popularity of celebrities and macro-influencers, people expect real content from them. They usually share content that followers can relate to their life. When such a person shares such content, followers will be eager to check the content posted.
Due to the changed Instagram algorithms, authentic and high-quality content has a greater priority than promotional content. Hence, micro-influencer content will get more visibility than the content published by macro-influencers and celebrities.
Cost-effective
Micro-influencers are more affordable than macro-influencers and celebrities with huge followers. The other types of influencers charge much higher than micro-influencers for promoting your business. You may have to work with two or more micro-influencers to get the maximum reach. Even if you hire more micro-influencers to target a wider audience, it still costs lesser than a single macro-influencer or celebrity.
Great content
Why do you think micro-influencers have a significant number of following?
It is because they know how to create engaging content for their expert niche. People are following their content including written words, images, photos, or videos. They know how to catch the attention of their followers by posting the right content at the right time. They post customized content to engage their community and maintain an online presence.
Ask to share distinctive experiences
You can expect them share their experience of using your product, for which you can offer them a free product or merchandise. You can ask them to share videos of using the product as videos create eagerness in the viewers. When they describe the pros of the product, it gives an authentic flavor to the video. This encourages the viewers to purchase and use the product without much hesitation.
Usually, people are hesitant to use newly launched products. If your product is brand new, then micro-influencers can help you in marketing the product among target customers.
Finding micro-influencers for your business
It is not difficult to find micro-influencers as you think. You can search for micro-influencers from your followers. If you could select a person who already likes your brand, then it will be easy for you to reach potential customers.
Another way to find them is through hashtag campaigns. When you post a photo or video campaign on the Instagram account with a hashtag, people will repost or share the photos using the same hashtag. This helps you to search people who shared your content with your hashtag. Thus, you can find micro-influencers who are interested in your brand.
Criteria to select micro-influencers
First of all, you should check their bio and profile to know more about them. Their bio will talk about their niche and interests. Check the recent posts to find the engagement received for each post.
bvbbb
Are they posting on a regular basis? Do the followers are interacting with them? Check whether the content they post is appropriate to convey your brand's message. Analyze how they can represent the brand with innovative and captivating content. Consider whether they can communicate with your targeted audience effortlessly.
Are they influencing the followers to purchase things? Posting content and interacting with the target customers is commendable. But, influencing the followers to buy products or services promoted through their feeds requires talent. Find such people to promote your brand through Instagram.
Effect of micro-influencers
Is it possible to analyze the effect of micro-influencers?
Before you begin with micro-influencer marketing, you should know how to weigh their success. The first thing you have to do is to set a marketing goal. Then, set a system to measure the effectiveness of the micro-influencer campaign. You can make use of metrics such as website traffic, engagement rate, brand identity, sales conversions, etc., that are relevant to your marketing goal.
Conclusion
Nowadays, several brands are using micro-influencer marketing to market their brand. This trend is going to continue in 2019 also because traditional marketing is not as effective as before. People are spending a majority of their time online by communicating through social media. Hence, it is easy for businesses to reach their potential customers through micro-influencer marketing.
Micro-influencer marketing is effective because most followers believe and trust the recommendations of people they are following. So, when a micro-influencer promote a product sincerely, then his/her audience will listen and try to purchase the same product.