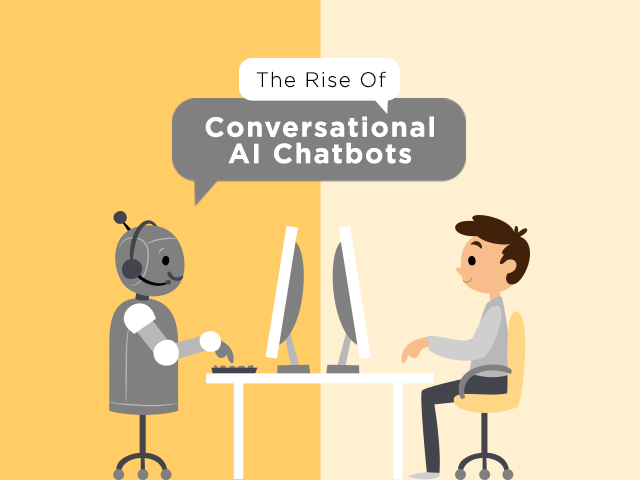 The Rise Of Conversational AI Chatbots
The chatbot craze started in 2016 with Facebook's report of a developer-friendly platform to make chatbots on Facebook messenger. Chatbots were indicated as the next part of the conversational revolution. Toolkits that helped you create a bot in five minutes went famous, companies raced to the market with new bot reports.
The hype that bots will become the next important thing can be attributed directly to app fatigue. Currently, consumers spend more than half of their time using apps created by Apple, Google and Facebook. Although, many smartphone owners don't buy many apps. Bots presented a new way for companies to embrace nascent natural language technologies to initiate traffic, usage, and engagement — the buzzwords of the app economy. Ignited by some free platforms such as Facebook's and others, developers and brands similar raced to jump on the post-app-fatigue bandwagon.
Chatbots have been deemed useless because the time has come to segregate the wheat from the chaff.
What Is A Chatbot?
Natural language text interfaces that are built by utilizing rules that uplift canned, linear-driven interactions. They are easy to make and located by pre-defined flows.
This approach is wearing thin, despite new bots reaching in the marketplace, as it only works well for those conversations with a predefined flow.
Thus, such natural, every day and highly complex conversations need a level of comprehension and cognition that goes far beyond the limited defined flow of today's chatbots.
 The Rise Of Conversational AI Chatbots:
Chatbots failed to give the desired expectations and has turned toward conversational AI platforms, specifically in complex use cases. These platforms offer more than a natural language interface (NLI): s it shows a right and true advancements by combining a variety of emerging technologies.
These new platforms are so knowledgeable that Juniper Research projects advanced AI chatbots might lower business expenses by $8 billion in the less than five years.
Companies must consider the following while assessing their AI strategy:
Can it talk, text or chat? Conversational AI must available on voice, text or Web, and it should be ubiquitous and seamless across channels and can be available by Alexa, Google Assistant or even your company enterprise portal.
Can it learn? A conversational AI solution should be able to use the much history available from existing enterprise interactions. Also, includes chat and voice transcripts, transactions.
Can it understand? Besides chatbot capabilities, conversational AI should perceive complex sentences of human speech just the way humans do. As the real human conversation is never straightforward because of full of imperfections and a host of other issues.
The Future Of Conversational AI Is Enterprise.
Despite the bursting of the "consumer chat bubble" in 2017, technology is getting ahead with great strides in the enterprise.
Intelligent conversational interfaces are the finest path for businesses to interact with devices, customers, suppliers, and employees in every corner. There are numerous companies that provide AI-driven conversational platforms specifically focused on high impact use cases, which includes IBM's Watson, KAI.
Intelligent assistants constructed on these conversational AI platforms can be taught and continue to learn every day.
Deepak Poori is digital marketing manager at DeplerAI by profession and is a passionate blogger by choice. He believes in marketing tech products that deliver real business outcomes and writes extensively about the prevailing trends in Artificial Intelligence Chatbot.