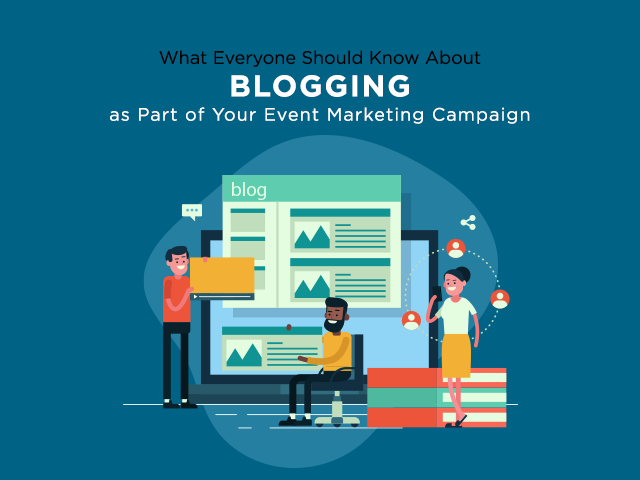 What Everyone Should Know About Blogging as Part of Your Event Marketing Campaign
People love events. According to statistics, millennials attend live events more often than other generations. The popularity of live events is good for marketers and businesses because events are a great way to connect with existing and potential customers. Events increase engagement and allow you to interact with your audience in a meaningful way.
Although events are so useful and popular, not all of them are necessarily successful. Just as any other strategy, event marketing can help you succeed only if you understand this strategy and apply it properly. We decided to help you make the best out of event marketing. For instance, blogging can help you reach a wider audience and make your event much more effective.
Event Marketing: What Is It?
Event marketing is no different from other types of marketing, as it's aimed to promote a certain product, service, or brand. There are many kinds of event marketing, from events organized by a business to big trade shows with dozens of companies involved. Thanks to the internet, there are also online conferences, workshops, and webinars.
The organization of an event itself takes a lot of time and work, however, the promotion also requires you to put a lot of effort into it. When promoting events, marketers use SEO, emails, social media, and blogging.
What Makes An Event Marketing Campaign Successful
According to research, the average CMO's business-to-business marketing budget includes 24% of the costs intended for events. Industry experts expect the number of professional events around the world to go up to 3.2 million a year by 2020. Today, consumers are used to various forms of digital marketing messages. Live events allow consumers to forget about this noise for a while. Event marketing can turn out to be the most effective solution because it connects you with the audience in a personal way.
To make your event marketing campaign successful, we suggest focusing on inbound techniques. This is because you won't need to spend extra money on email lists and ad space. In addition, this method is often more effective. You should also have a dedicated team that will be able to cope with different tasks, including design, social media marketing, PR, and technical support.
It's especially important to attract people to your event by telling a story. An engaging story can help you build a good experience for people who are going to attend your event. Helen Sawyer, a marketing manager at Masterra, notes: "For your audience, your brand is, basically, a story that you tell. It's important to figure out what story perfectly describes your event and brand before you decide to tell it." Blogging is, obviously, the best way to turn your storytelling into a lasting and engaging experience.
Why Your Event Marketing Campaign Should Include Blogging
It makes your event more personal
Blog posts are short and far less formal than regular marketing texts. Most events choose to start their blog as soon as the registration starts. In a blog, you can post daily updates and tell your audience about all the special promotions. If you want your event to be successful, you should get your audience excited, and blogging is the best way to do it. In addition, blogging is a two-way conversation where people hear your brand voice.
It optimizes sharing
Blogging enables your audience to share your content and therefore helps you reach an even wider audience. The main thing is to make your content interesting so that people will want to share it. Make virality your main goal, and do what you can to offer the best content possible. Make sure you have sharing widgets in place so that your readers can share your posts on platforms of their choice.
It builds trust
Blogging also allows you to demonstrate that your event is worth attending. As people read your blog posts while searching for relevant information from your industry, they understand that the event itself can be a good source of information. This is a reason why you need well-written and well-researched content. You can also add calls-to-action at the end of your posts because people are likely to want to stay engaged and attend your workshops or talks.
It improves your SEO
When you post fresh content frequently, you create a pool of keywords which can appear on search engine results. Choose topics for your blog taking into account the specifics of your event and include relevant keywords. It will help more people find information about the event when they're looking for related content. Blogging can make your event more popular and relevant in the industry.
Conclusion
Many marketers ignore blogging when promoting events or brands. However, blog posts are a great way to tell the story of your event, making your audience more engaged, and establishing close, trusted relationships with people who are really interested in your brand. Blogging is personal and interesting, which is a great solution for event marketing. The right content can make your blog posts more effective than the traditional one-way marketing messages, saving costs, and bringing higher returns.
Berta Melder is a brand manager, currently associated with Professional Writers at Masterra as a content marketing strategist. Being passionate about her job, she collaborates with different education entities, covering a broad range of digital topics as a guest lecturer on a part-time basis. Follow her on Twitter.