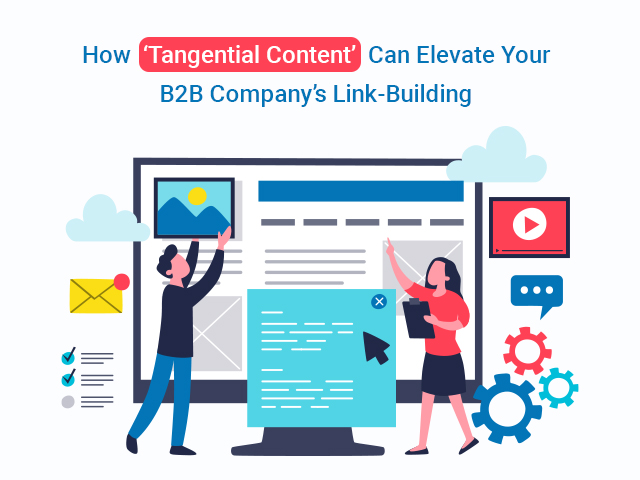 How 'Tangential Content' Can Elevate Your B2B Company's Link-Building
The dynamics of E-commerce and the internet ecosystem now allow you to monetize your time and practices in any way, time, and manner. Achieving economic stability is imperative. To do this, first of all, you will need a dedicated audience that wants to consume your content regularly. Once you have achieved this through different means like niche expansion and investigation, thematic diversification, content sponsorships, and such are key to keep the momentum up.
How to build up a strong and durable SEO?

A good way of doing this is to apply several SEO tactics and SEO Consulting that will allow you to perform better in the rankings without paying Google. It's important to remember that "natural SEO" is better than "Google Ad SEO" for several reasons. First of all, natural SEO is free; you don't compete directly with anyone else. It builds up over time and once you're on the first page, according to the general search engine tendencies, is unlikely that you'll fall off it, and as bonus studies show that you users are far more willing to click on a natural search result than an ad one. Having said this, it's important to know that Google's algorithm changes the most effective SEO techniques slightly frequently.
It can be daunting for a company to keep up with it while maintaining its day-to-day business practices as it is an almost impossible task. Therefore, the existence of dedicated SEO-providing companies, such as SEO Tactica, or other providers will allow you to rank and perform better at the results page, giving you more clicks, traffic, potential customers, and money. These companies will improve your SEO game exponentially through the implementation of keyword optimization and placement, efficient usage of heading subheading, web architecture improvement, the ever-important tangential link building. All of this for a lower price than Google (remember Google uses the highest bidder mode to promote Content, so only one of the paying companies gets placed at the top). It's building natural SEO without effort or hustle!
What is Tangential Content in Link-Building and how to achieve it with ease?

Tangential Content is the making of Content that is not directly related to the products or services that you provide but rather shares a loose or milder connection to it. If you sell coolers or water bottles, an excellent example of tangential Content could be based around fitness or climate change. If there is content related to other cultures or in other languages, you can use translation services to help you come up with a decent translation. It's the middle between presenting the information as an ad and being so loosely related that people wouldn't be able to tell why the Content was created for that page. This practice can be especially useful to bring traffic and sell when you don't have any major announcements or new campaigns coming up (which most likely would be the case in these dire times). It also broadens the scope of your websites, allowing new customers to come in that would have probably not found you otherwise.
How does tangential Content relate to link-building? Well, the series of actions you can do to generate an external link that will expand your online presence, it's a need-building technique that relates deeply to the B2B nature.
There are two main ways to go about it; whether you're manufacturing, services, or a distribution company, you will always need to have good connections and relations with  Tangential Content helps as an SEO tactic in this process because you can either make the Content and build links to it around external Tangentially related businesses or allow the other companies to put their links on your pages to function properly. Either way, this will not only generate traffic, but it would also give you a stronger presence and placement.
In conclusion, Tangential Content is a crucial SEO tactic because it allows not only you to get more traffic, but it also diversifies your Content, opens up to new markets, and opens a new pool of Content to explore. SEO practices are not a small matter; therefore, if you're not an expert it is best to leave it in the hand of the most up-to-date professionals.
Katrina Paulsson is a freelance content writer. She searches for strengths in uncovering errors in grammar, punctuation, and sentence structure. Her mission is to inspire others through her pieces.