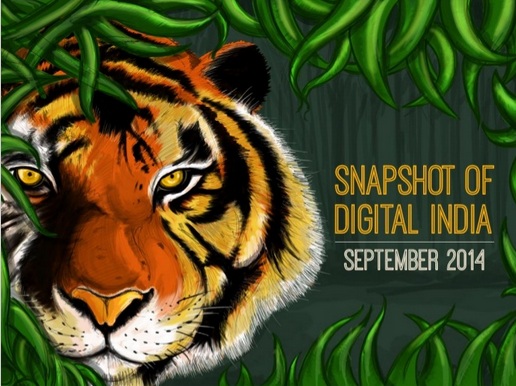 Snapshot of Digital India – September 2014
The tiger is up and roaring, and so is online India! India is taking fast, steady strides towards transforming itself into a digital nation. With the government inclined to adapt digitization and technology in the country, and doing all it can to support its growth, online India is set to make a mark and break records in the last quarter.
Here are the key takeaways from the Snapshot of Digital India – September 2014 edition:
Teledensity is up from 72.94(June) to 75.80(Sept)
Asia has the biggest share(48.1%) of the global internet base, which is expected to reach the 3 billion mark by end of 2014
India' share of the internet users pie is 8.33% with a y-o-y growth of 14%
In the state-wise comparison, Maharashtra has the maximum number of internet users
In India, social media platforms are mainly male dominated (males constitute 76% of Facebook and 73% of Twitter)
India is among the top 3 ranked countries in terms of Andriod app usage by download
The increase in the smartphone penetration of the country has led to Indians spending more time (20% greater than 2 years ago) on their smartphones.
A drop in the PC shipment and a rise in the mobile domain, indicate that online India is getting mobile and on-the-go
You can check the complete Snapshot of Digital India – September 2014 report below
The Snapshot of Digital India is useful for marketers to get informative insights and plan their
digital marketing strategy
more effectively. With more and more marketing resources being directed towards mobile marketing, as it is the space that Indian consumers are migrating to, every
digital marketing company
is looking at mobile-based innovations and moving beyond SMS marketing and mobile ads.
Stay tuned as we continue to keep you updated on useful information in future too. Let us know if you find out compilation useful and if there are other areas you want to see added to it going forward.
Join us on Facebook and Twitter to keep the conversation going!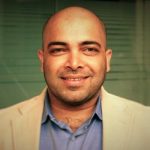 Marketer, Maven, Mentor. 3 Ms that define Siddharth Hegde, a.k.a. Sidd, Managing Director of the effervescent and ebullient Digital Marketing Agency, Ethinos. He tucks in over 18 years of sales & marketing experience under his belt, gathered from Fortune 500 and other inspiring companies that he has worked with. Sidd is a technology zealot since almost two decades, keenly tracking the interplay between technology, design, and usability across products and services. He brings to the table an industry understanding & background in digital strategy formulation & implementation. In his free time, he enjoys sailing, scuba diving, white water rafting, trekking, and seeking out the outdoors.