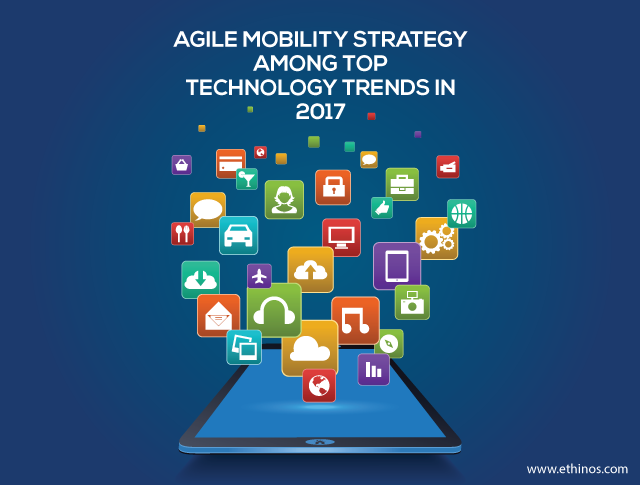 Agile Mobility Strategy Among Top Technology Trends In 2017
What do you know about strategic technology? Enterprise mobility solutions providing company explains strategic technology as one that has potential to put a significant impact on the enterprise in the next three years. Factors that define such impact include a high potential for disruption to the business or IT, the requirement for a major dollar investment, or the risk of adopting late.
Strategic technology could be an existing or emerging one but it will surely impact on long-term plans, programs, and initiatives of the organization. Enterprise mobility is an emerging trend bringing great challenges for companies to strategize on it.
The first app is a customer facing app that enterprises think for their enterprise mobility strategy. It is because such strategy can help businesses to generate revenue.
Generally, companies either build apps in-house or outsource development services. Some companies focus more on customer apps. This renders their strategy incomplete. For balanced mobility strategy, it is significant to cover all stakeholders in the enterprise including partners, employees, and customers.
When it is about internal mobile apps, it is quite obvious that enterprises prioritize the core business apps as these apps bring quick rewards with greater business impact and competitive edge. However, if the enterprise mobility strategy is based on apps that belong to this category, it will bring a short-sighted approach.
It is important for enterprises to find more opportunities like fringe apps for business workflows, employee engagement apps, productivity apps, etc. This will help entrepreneurs in availing unseen benefits like productivity gains and enhanced employee satisfaction.
Your effective mobility strategy should aim to leverage the smartphone power to the enterprise advantage in every possible way. Starting with core business apps is a great idea, but enterprises should also ensure that the investment they do for this thing is strategic.
Enterprise IT has to be proactive in its mobile apps strategy apart from developing apps for business should be successful.
A mobile website is the new mobile strategy. One of the primary investments made by enterprises is web-enabling their IT systems.
A mobile website can never be a long-term enterprise mobility strategy for several reasons. Out of them the primary reason is that it is still not an app available on the device, so user experience takes an immense toll.
Cross platform SDKs like PhoneGap are merely app development tools and are inadequate for comprehensive mobility strategy. Companies need to remember this fact that enterprise mobility strategy is more than just developing apps. It involves comprehensive deployment, security, management and monitoring functionality without which you cannot scale the strategy and at the end, you will need extra investment on mobility solutions.
B2B Mobility Services Future
B2B ecosystems make the backbone for major functions in the organization such as supply chain optimization, marketing, sales, knowledge management, product development, and innovation.
Today, even school going children are having their personal mobile devices. Students are using their devices for shopping, infotainment, and communication. Retail customers and enterprise users prefer to get things done with their smartphone.
Enterprises are shifting to EMM solutions (enterprise mobility management solutions) to acquire control of their mobility ecosystem which is expanding with time. It is evolving from simple device management to include features like user credential distribution, access control, single sign-on, and more.
The latest trends in mobile app development for 2017, such as low-code usage and no-code option, use of containers, and other trends will also apply in B2B section. Mobile app development is vastly becoming agile, with extreme focus on recycling of design, modular approach, etc.
The Gap Between Enterprise Mobility and Enterprise IT
Enterprise mobility is the latest technology among others in enterprise IT. It will take time and talent to implement a successful strategy for enterprise mobility. Enterprises usually engage IT service professionals to bridge this gap to help them achieve a successful mobility strategy.
Outsourcing strategy typically doesn't work and so for mobility.
Security is the primary concern for enterprise mobility. Security requirements include authorized access to enterprise apps, data storage in users' devices, access to enterprise data, etc. Due to latest platforms and tools, security is no longer considered as serious concern like in past years.
Even if you are adopting a virtualization solution, it won't make your enterprise mobility strategy complete. Though it is known to be a faster way to offer secure access and space for corporate details in the devices of employees; visualization offers a secure container on the device that enables easy access to available enterprise desktop.
However, it poses a risk of vendor lock-in, which might be dangerous for your mobile strategy in a longer run.
At the end, it is a big responsibility for businesses to choose right enterprise mobility solutions to be successful. For better solutions, they need to hire qualified professionals.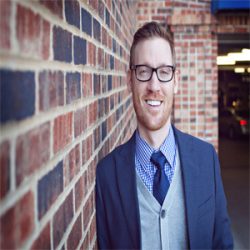 Aaron Jacobson is a web developer working at Technoligent. You can contact her in order to hire web developers to avail the highly enterprise mobility solutions and other web service. He has several years of experience in the field of web development.