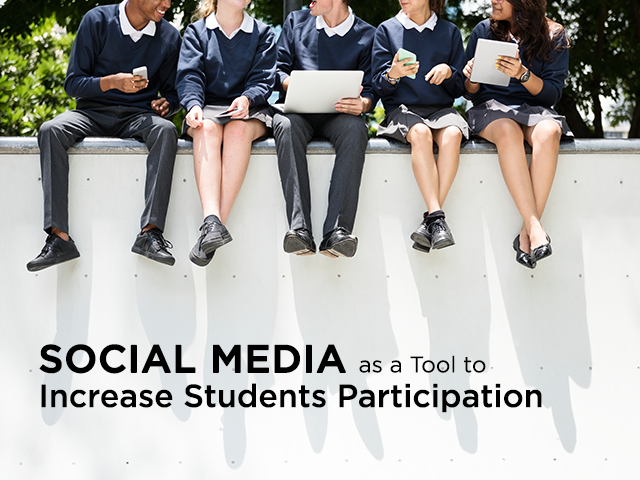 Social Media as a Tool to Increase Students' Participation
It is hard to find a student that does not have a social media account. They are used as a form of a public diary, to connect with friends and for sharing images. Sometimes social media are so addictive that they can really eat the time allocated for studying. But this situation can be turned around, and the networking itself can become a teaching tool, not a distraction.
Introduction
Nowadays, social media and college students seem to be inseparable entities. Look around you – the age of smartphones really changed people. You can see girls and boys around you with their noses in the mobile screen, posting and sharing information on the go. Some people practically live inside the digital world they created. There are games, images, articles to share and like and heated discussions to participate in. Sometimes, these networks are considered the ultimate distraction that takes the person away from reality. But what if we turn a distraction into something really useful. What if we turn the site for mingling into the site for learning?
The Rise of Social Media
Social media (SM) are a power these days. According to recent information, 78% of college students have social accounts. Facebook, the most famous platform, was launched only in 2004, but now has around 1,49 billion users. And it is not alone – there are multiple other specialized platforms with the same idea. These platforms are not only the tools for creating connections. They serve multiple purposes. If we need to know the recent news, want to sell or buy things or organize a crowdfunding campaign – we go to our friend thread first.
The Potential of Social Media in Higher Education
Considering how many college students use social media nowadays, it is only a matter of time when they would completely take over higher education. Forums and discussion boards are already a part of most online courses curriculum. The educational advantages to social learning are numerous:
Objectivity and speed in evaluating tasks. Instead of asking your friends to rate my essay online, you can get quick feedback at a relevant Facebook group or online community according to the existing guidelines not only from your peers but also from specialists and teacher's assistants.
Greater accessibility. Instead of being afraid of missing an assignment or a lecture, one can easily reach both online.
Collaboration made simple. Social media are an excellent tool for gathering people with similar ideas to launch events together. The same flexibility can be applied to research and analytic projects. Moreover, you can potentially collaborate with people that live miles from your own place.
A great tool for social research. Social media are already recommended as a cost-effective and convenient tool for organizing surveys across social networks, as they have most of the suitable functions already.
Communication with Students
Learning and communication go hand by hand. And this is why moving education to online platforms is inevitable. True, dependence on the written word can make face-to-face communication harder. But it has also become much easier to get feedback from college students, and vice versa. Facebook-type sites are turning into places where students can discuss and express their opinions in written form comfortably. They are more likely to express ideas that they would probably never mention in a classroom.
Learning Management System
Authority resources already state that social networking sites (SNS) can either supplement or completely replace current digital learning management systems. Though e-learning at present is quite widespread, there are certain limits to them. It is possible to overcome those limits by using SNS. Their functionality in creating groups and tagging objects is very convenient for academic purposes. They also enable easier monitoring of learning activities. By merging SNS and e-learning, it is possible to make studies modern and fun. And a stuffy university room would give way to a social media college.
SMM and Social Credibility
To bring coursework to the online student communities, the advertising has to go there, too. It is time to learn SMM (Social Media Marketing) in order to launch successful e-learning projects. To gain recognition and respect, the organizers need to post regularly and remember that status and credibility come slowly. Education is about social credibility, after all. College students need to know that they are going to get a sound, applicable education from a good professor.
Conclusion
The new era of digital and social learning is already upon us. And as there are already multiple accessible online sources, the relocation of education to digital platforms also significantly raises the bar for quality academic content. Which is good for potential college students – but is much harder for professors that need to create novel, original content to educate young masses. All in all, despite all the negative effects of social media on students, there are still at least two enormous benefits. One of them is the increase in education accessibility. The other is the increase in the quality of education all around. And although there are still many difficulties ahead, the perspectives are quite alluring for everyone involved in the education sector.
Robert Everett is an experienced academic writer and SMM specialist. He is a strong believer in lifelong learning. Besides being part of the team at https://twitter.com/edu_birdie, he is developing his own online course on SMM and networking.