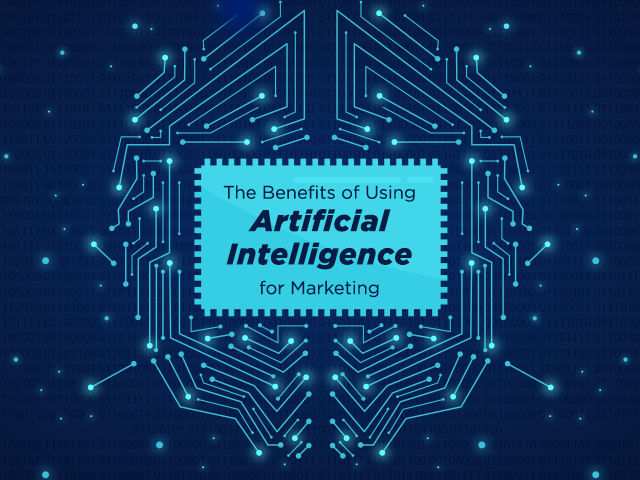 The Benefits of Using Artificial Intelligence for Marketing
Digital marketing has faced many disruptions, but recent technological breakthroughs have brought some of the most sweeping changes yet. Artificial intelligence (AI) has taken nearly every industry by storm, but few have felt its impact as deeply as the marketing industry. We're already seeing AI revolutionize the way marketers target and engage consumers. There's still a great deal of further research and development to be done, but the progress AI has made thus far has proven incredibly beneficial. In this article, we've broken down the leading benefits of using AI in your marketing work. You're sure to find something interesting here, whether you're already making use of AI in your marketing practice or you're still exploring its possibilities.  
Role automation and data collection
One of AI's most popular benefits is its ability to change the way people approach their work. AI technology can handle the myriad mundane tasks common to every job more efficiently and with greater accuracy than humans. By offloading low-level work to AI, you and your employees can focus your time on more pressing matters.
Successful marketing demands quality data. Historically, this required analysts to spend hours on manual research, which could involve painstaking case-by-case analyses of individuals and their actions to determine what approaches were or weren't useful. AI can handle much of this analytical work without human input.
By gathering and analyzing the enormous amounts of data today's digital campaigns generate, AI gives marketers more accurate insights into the best tactics, sequences and funnels for converting prospects into customers. As AI and deep learning continue to provide better information to busy marketers, their efficiency and the effectiveness of their campaigns will only increase further. AI is so beneficial in these domains that it's projected to boost workforce productivity by up to 40 percent by 2035.
Predictive analytics
Predictive analytics can contribute meaningful insights during the creation of impactful marketing campaigns. Utilizing data, statistical algorithms and machine learning techniques to intelligently predict the future responses of consumers based on their historical data can make predictive analytics a highly effective tool in the marketing kit.
This technology eliminates the need for marketers to conduct continuous manual research and follow up with customers. Predictive analytics can make marketers aware of their customers' needs and wants before they even start shopping. Sound too good to be true? According to McKinsey & Company, predictive analytics fuel 35 percent of purchases made on the Amazon.com. Amazon made $178 billion last year, so you could say that predictive analytics is worth $62 billion to Jeff Bezos.
Customer experience
Many marketers now focus their efforts on optimizing the consumer experience, and rightfully so. As Oracle CEO Mark Hurd points out, "86 percent of today's consumers are willing to spend more on a better consumer experience." Technology lets brands interact with their customers on a more personal level than has ever been available before, and these direct interactions give marketers a way to meet growing demands for better experiences. AI plays a major role in improving B2C interactions and overall customer engagement.
AI's data analytics capabilities give marketers a better understanding of customer interests at a very granular and immediate level, giving them opportunities to place the right product or service in front of the right people at the exact right time. AI-powered social listening gives markers a first-hand and real-time view of their brand portrayal across digital channels and allows them to analyze every mention and evaluate real-time customer impressions. This depth of information opens a range of possibilities to deploy more effective digital marketing and also helps brands develop a deeper understanding of what works with their customers.
The AI movement is just getting started, and though we've already seen great progress, there's still a long way to go. As IBM CEO Ginni Rometty has stated, "Regardless of role, every industry will be disrupted" by AI, and that includes the marketing industry. We're sure to see great advancements in AI technology, and in its value to marketers, for years to come.