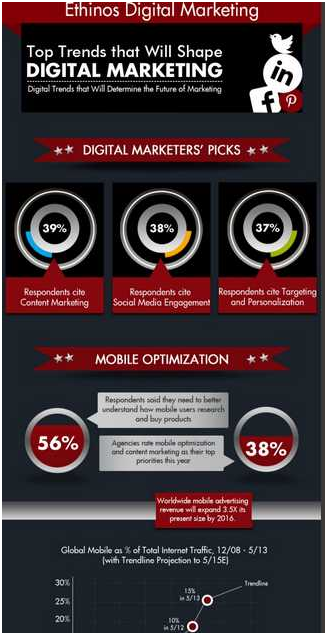 Top Trends that Will Shape Digital Marketing
Considering the humongous amounts of information available, playing soothsayer when it comes to analysing digital marketing trends can get quite tedious. And a lot of times, it can leave you frustrated because there are so many changes that happening constantly, that by the time you figure something out, there's already another update!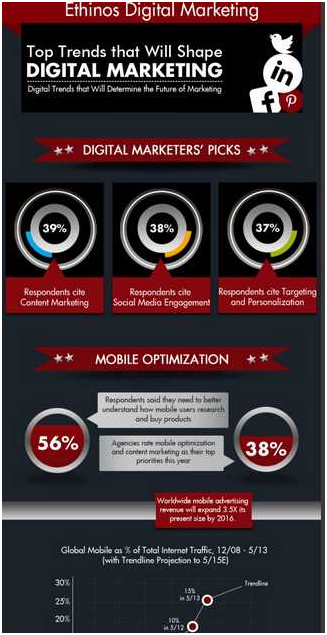 Here's a bit of help:
Check this infographic on the top trends; content marketing, mobile optimization, conversion rate optimization; that are defining digital marketing today and are likely to have a significant influence on its future course.
 Here are some interesting insights:
Content Marketing is one of the top trends that will affect brands' and companies' digital marketing strategy in the coming months
Worldwide mobile advertising revenue is set to expand 3.5 times its present size by 2016
Social media lead conversion rates are 13% higher than the average lead conversion rate
LinkedIn is the most popular social network among B2B marketers and Facebook is the most popular social network for B2C marketers
For more insights, check our infographic featured here; and join us on SlideShare for more insightful resources.
Do you think these insights will lead to major changes in the digital marketing strategy for your brands? Do you rely on statistics as a rationale to validate the suggestions put forth by your social media agency? Share your thoughts!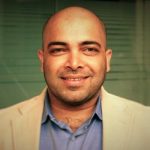 Marketer, Maven, Mentor. 3 Ms that define Siddharth Hegde, a.k.a. Sidd, Managing Director of the effervescent and ebullient Digital Marketing Agency, Ethinos. He tucks in over 18 years of sales & marketing experience under his belt, gathered from Fortune 500 and other inspiring companies that he has worked with. Sidd is a technology zealot since almost two decades, keenly tracking the interplay between technology, design, and usability across products and services. He brings to the table an industry understanding & background in digital strategy formulation & implementation. In his free time, he enjoys sailing, scuba diving, white water rafting, trekking, and seeking out the outdoors.