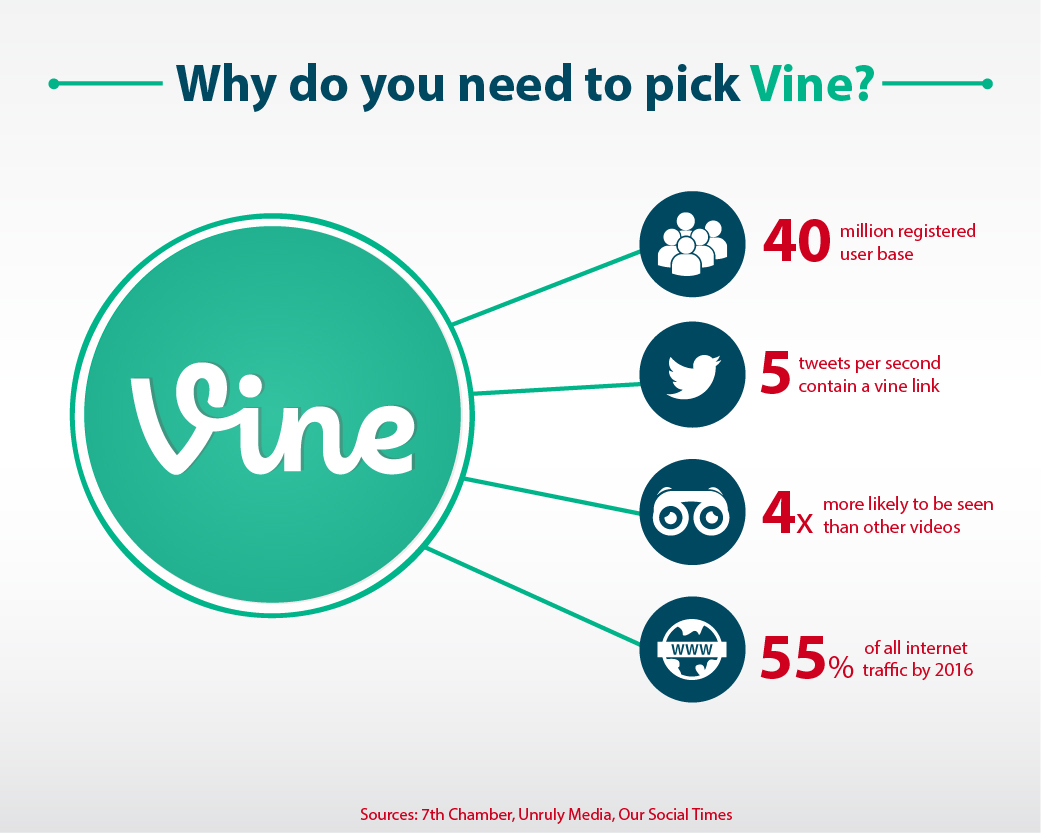 3 Ways to Give Your Video Marketing an Edge Using Vines
Vine, for the records is a video-sharing video app which was later acquired by Twitter in early 2013.It lets you make and share short 6 seconds videos.It is effectively used by many companies in their content marketing strategies.
According to the founders of the app, the 6-second video span, "felt anti-climactic" and that's when they came up with an "infinite-video action"- a process which allowed the videos to loop over and over again. This "over and over" action proved to be a great marketing element and thus a cause for an evolution of great vines' marketing campaigns.
While on the surface level, it appears to be a very lucrative opportunity for brands, to be able to add "something new" to their list of content marketing tools, but let's be honest. What's the best you can offer in the shortest, vaguest span of 6-seconds? The answer is- a lot; provided you have the right understanding about what your audience wants.
The main peg behind the ideation of a vine campaign is to illustrate a brand message within the shortest span of 6-seconds. And it can only be done if you have a kickass creative idea behind. What GE Science Lesson did was brilliant stuff. All they asked was "How much Science can you fit into 6 seconds?" And they were successful to collect 300 awesome vines which their audience was willing to share far and wide.
Let's discuss some of the coolest ways of vine marketing through which brands can pull out an effective campaign-
1.By making "How-to" vines?
The keyword here is "showing" and not "explaining". Vines nonetheless have an amazing capacity to capture the audience's mind, provided you have some brilliant content to offer. Show them "how to play beer pong in a pool of water?" rather than explaining them the games' rule.
2.Stop-motion Vines
You probably should see Dylan Blau's work to comprehend what we are talking about. Stop-motion animation vine technique is definitely going to be the go-and-get-it trend in the future of vine marketing. The level of complexity involved, no doubt is difficult but the end result is what matters the most. Stop-motion vine videos are best for the brands who want to showcase their products in a most creative and fun way. Rest; there is no limit to your imagination.
3.Audience Participation
The best method to increase audience engagement is to engage your audience. Vine marketing provides a huge scope for brands to crowd-source user-generated vines. Ask your followers to make their own DIY Vines' at their homes. Because, all you need is a smartphone to keep your vine strategy on track.
Vines are more about emphasizing creativity within constraint and the Indian digital scenario has a long way to fully tap its potential. The most amazing trait about using vine is that being a brainchild of twitter, you can attach any hashtag with your vine video and make it go viral.
According to the latest development in this app, the user can now import videos from any outside source as well, which means you can literally convert your videos into a cool 6-second version of vines.
To make your vine video an instant hit with your target demographic, it should not be boring or lack a novelty factor. A Vine video has an infectious tendency to stand out from a regular 140—character post. It gives audience a thrill without taking a large portion of their time.
Many of the international brands including names like Taco Bell, Toyota and the Muppets, Urban Outfitters, Dunkin Donuts and Oreo have already realised the awesome applicability behind vines videos.
So, don't hesitate to share what you think of these cool vines? Have we missed on something? Do drop your feedback in the comment section below.
Rachita is a part of Ethinos social team, helping clients with social media strategies and activities