5 Important SEO Trends for 2012
The year 2011 was the year of search engine industry development. It could probably also be known as the year of changes in algorithms with the biggest change being the Google algorithm known as the "Google Panda" update.  Google made life very complex for all SEO's and webmasters that aimed to position themselves higher into the search engine results pages.  The war against spam, poor quality content, back links is set to continue in 2012 and that's why most of the search people are expecting more algorithm changes in 2012. To get better search results in 2012, we can consider the following SEO trends.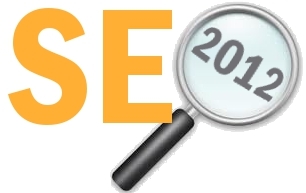 1. Natural SEO will win the Battle: Google Panda came with a promise to filter low quality content and poor websites. But in the experiment, many high quality websites lost their ranking and traffic. So this was not as good as the search engine optimization experts expected it to be. It goes to prove that in 2012, we will need to be more natural and interactive to achieve higher position in SERPs in 2012.
2. Social Media will become a Big Game: The use of social media boomed in 2011 and most of the big brands ensured their presence on almost all social platforms. One look at the number of Facebook users and their activities is enough to understand why Google has already announced that they are going to consider social signals as a ranking factor for a website or brand.
3. Mobile SEO will gain importance: The use of smart phones and tablets is changing the world and as a result, mobile search is developing very rapidly. CNN/Fortune's Seth Weintraub has predicted that ½ billion smart phones will be sold this coming year. So having a mobile website with proper optimization can add millions to your company profit.
4. Listing your Business Locally will have better results: Google Places, Yahoo Places and reviews will continue to grow in importance. Google Places will continue to provide the best organic results and Yahoo, which has started listing local results for local users, will generate more traffic to businesses that have been listed locally.
5. SEO will become more competitive and complex: As more and more companies set up websites and increase spends on their digital marketing campaigns and search engine optimization, the competition is bound to get fierce. Only smart SEO's will find a way to deliver good results.