Ethinos is the social media agency for Kala Ghoda Arts Festival 2013!

The New Year has begun on quite an arty note for all of us at Ethinos! The last week of January saw us being signed on as the social media agency for Kala Ghoda Arts Festival 2013; and with the festival progressing in full force right now, we've surrendered to the charms of the black equestrian!
We've managed online events before; and very diverse ones right from international music concerts, to award functions, to corporate events and conferences; but this one's special!
One because of the brand equity it enjoys throughout Mumbai and also because it's not every day that you manage a festival where 400 events from close to 11 categories happen simultaneously across 20 venues and 9 days! This is one of those client engagements that really allows you consolidate all the experience and take your expertise to a new level.
As social media agency, our activities don't end at managing the online profiles and constantly updating them to keep members engaged and interested. A major role that we play is coordinating with the public during the festival is on. By sharing event reminders, live updates, changes in venues and timings, as well responding to queries; we ensure that the 5 million+ people we connect with get correct information in real-time. To leverage the digital marketing strategy that we put together to the fullest, we use monitoring and analytics tools that let us optimize the activities that perform best and resonate with our target audience.
Influencer management and integration between offline and online marketing to create synergy are also integral elements of our strategy. We achieve these by coordinating with top bloggers and web portals, sharing their blog posts and coverage, incorporating offline press coverage in our communication and bringing art alive through our posts.
You can check the Kala Ghoda Arts Festival page, the Kala Ghoda Association page and the Kala Ghoda Twitter profile to see how exactly we're doing all that we say we're doing!
Making the Kala Ghoda Arts Festival as successful online as it is offline is our mandate and given the bright and enthusiastic team we have working in this, I have no doubt that we will succeed.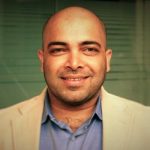 Marketer, Maven, Mentor. 3 Ms that define Siddharth Hegde, a.k.a. Sidd, Managing Director of the effervescent and ebullient Digital Marketing Agency, Ethinos. He tucks in over 18 years of sales & marketing experience under his belt, gathered from Fortune 500 and other inspiring companies that he has worked with. Sidd is a technology zealot since almost two decades, keenly tracking the interplay between technology, design, and usability across products and services. He brings to the table an industry understanding & background in digital strategy formulation & implementation. In his free time, he enjoys sailing, scuba diving, white water rafting, trekking, and seeking out the outdoors.