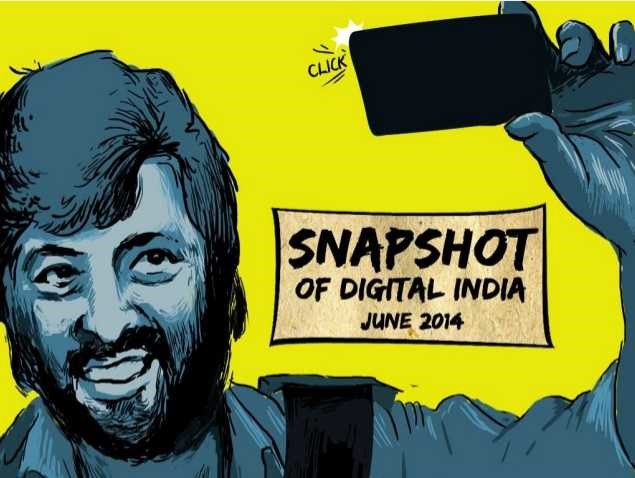 Who would have thought the bad-guy from the Bollywood cult classic Sholay will take a selfie? Well yes, the dreaded villain was in a light mood and took a picture of him on his brand new smartphone. He probably couldn't resist uploading it on his social media profiles and sharing it with his buddies Kalia and Sambha!
But jokes apart, India is really moving online with a vengeance. And this is amply clear from the findings of our exclusive report, 'Snapshot of Digital India – June 2014.' Be it social media, online shopping or net banking; Indians are totally getting click-happy and adapting to the virtual world. More and more citizens are getting converted into netizens each quarter, and with cheaper smartphones making their way into the market, India is getting mobile and on-the-go with technology too. Here's a link to our report that explores online India's trends and habits:
Read on for some key findings of the report:
Internet penetration in India reached 19 %
Facebook is the post popular social networking site with around 102+ million monthly active users (MAU)
Smartphone penetration in India reached 15% with a growth of 219% y-o-y in the smartphone shipment
Whatsapp is the most downloaded mobile application in India
Use of multi-screen is on the rise with a multi-screen user spending on an average 390 minutes consuming various kinds of screens
India ranked 134th in the world when it came to the average net speed for desktops; a huge improvement seen from the past
Digital advertising spend is estimated to be at 3,400 crores in 2014

The advertising mix of various brands and companies will undergo a noticeable change and many companies will focus a lot more on their digital marketing strategy. The share of digital spends is expected to be 7.9% of the total advertising spends in 2014, as more and more marketers will use the online medium chasing consumer clicks, often resorting to taking assistance from a digital marketing company for online marketing services.
Hope you liked this edition of our quarterly report. We think Gabbar would have totally modified his famous dialogue to, "Bahut gyaan hai re is report mein!" Do let us know if you found it useful. And watch out for our next edition coming your way in September 2014.
Abhishek is a part of the Ethinos search team and helps client with various search techniques.