If statistics are anything to go by, digital media in India is set to grow. And how! Internet, mobile connections, broadband connections have all grown by double digit percentage figures.
It is also interesting to note is that the landline connections have declined and show a negative growth percentage.
This explains the trend of increasing numbers of smartphone and tablet users.
'A Snapshot of Digital India' is a concise presentation of statistics compiled by Ethinos Digital Marketing to give you a clearer picture of the trends and patterns of digital media consumption in India.
These statistics are important insights that will let you, in coordination with your digital marketing agency, frame a sound digital marketing strategy that gives you high returns on investment.
Go on…claim your share of the digital media pie. And if you need help with it, you can get in touch with us at Ethinos Digital Marketing.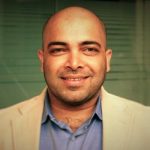 Marketer, Maven, Mentor. 3 Ms that define Siddharth Hegde, a.k.a. Sidd, Managing Director of the effervescent and ebullient Digital Marketing Agency, Ethinos. He tucks in over 18 years of sales & marketing experience under his belt, gathered from Fortune 500 and other inspiring companies that he has worked with. Sidd is a technology zealot since almost two decades, keenly tracking the interplay between technology, design, and usability across products and services. He brings to the table an industry understanding & background in digital strategy formulation & implementation. In his free time, he enjoys sailing, scuba diving, white water rafting, trekking, and seeking out the outdoors.