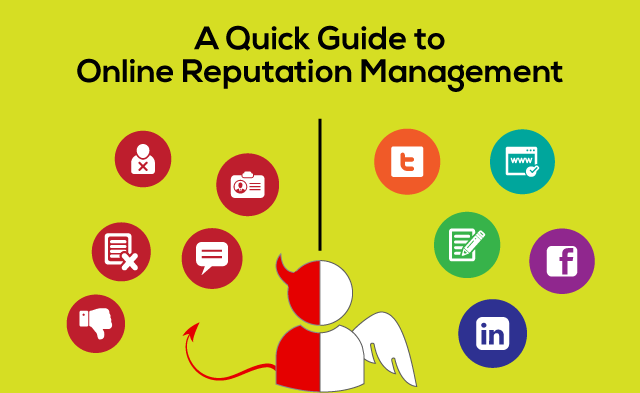 Online Reputation Management – A Guide for Individuals and Brands
Technological advancements have led us to an age where we have to be careful not just about our social status, but also our online one as well. Internet has changed the way the world thinks and works. The first thing a person does when he wants to know more about you or your brand is Google it. Employers don't stop their evaluation process based on a candidate's educational qualifications; they also evaluate his/her Online Reputation.
Until the late '90s, brands reached out to a passive audience, who didn't have easy access to a source of direct communication. Things have changed now and customers can reach out to the enterprises through an online platform of communication. Irrespective of the size of your brand, people are capable of reaching out to you via a tweet or a comment or through just a plain review on your website. One negative feedback on the online platform has the power to tarnish your brand image. In such a growing digital scenario where individuals and brands alike have to be careful of their online image, Online Reputation Management comes to the rescue.
If you happen to go through the horrors of a damaging online image, here are a few steps you can take as an individual or as a brand in order to recover from this whammy.
Individuals
As an individual whose unfavourable Online Reputation stands to adversely affect your career, begin by Googling yourself to check the kind of results that show up. In either of the cases, where there are pertaining to you, then you can take the following steps.
• Social Media Profiles – Create profiles on all the major social media platforms like Facebook, Twitter, LinkedIn, Google+, Tumblr, and communities like Digg, Flickr, Reddit in order to have multiple control locations on the Google search page. It is essential to inter-link and optimize these profiles in order to create a well-rounded social media ecosystem.
• Privacy – Leverage privacy functions on platforms such as Instagram & Facebook in order to protect personal information and control the content available for public consumption.
• Blog – Creation, Optimization and maintenance of a personal blog on hosting platforms like WordPress, Blogspot, Tumblr, etc. helps having your presence on highly authoritative platforms such as these.
• Website – Create your own website with your name as the domain name and ensure that it is SEO optimized with proper meta-tags in place. Use your blog and social media profiles to link to the website.
• Content Refresh – Actively promote content available on the higher pages of the Google SERP in order to drive more traffic towards them. Social bookmarking is also a good way to bring up all the positive content.
Brands
Online Reputation Management is now an important aspect for brands, as online transparency puts a lot of power in the hands of your customers. It is essential to have a non-negative sentiment, as it has a direct impact on the consumer perception about a brand or an entity.
• Brand Domain – Claim a domain with your brand name and ensure complete control over it. Optimize your website for negative keywords such as reviews, feedback, etc and ensure that these rank for negative brand keywords. Continue to publish non-negative reviews and testimonials on your website in order to leverage your domain authority and capture top spots on the Google SERP for negative keywords.
• Manage the Brand – Create a presence on highly authoritative social media platforms like Facebook, Google+, Twitter, and LinkedIn. Simply setting up online profiles won't help; brands should make sure that these profiles remain active and offer interaction with customers.
• Interact – Responding to queries/comments on social media is essential for having a positive footprint Prompt responses on social media, regardless of the sentiment will help drive engagement and increase customer satisfaction.
• Take Issues Offline – Arguments can incense dissatisfied customers, who have a lot of control over how your brand represents on the online platform. Try to take most complaints offline and sort out the issues over a personal discussion rather than have the conversation open for the entire internet community to witness. If your brand is caught on the wrong foot, make sure you make a genuine apology to those who have been aggrieved.
These are some methods of Online Reputation Management that you can adopt in order to have a positive impression on your customers.