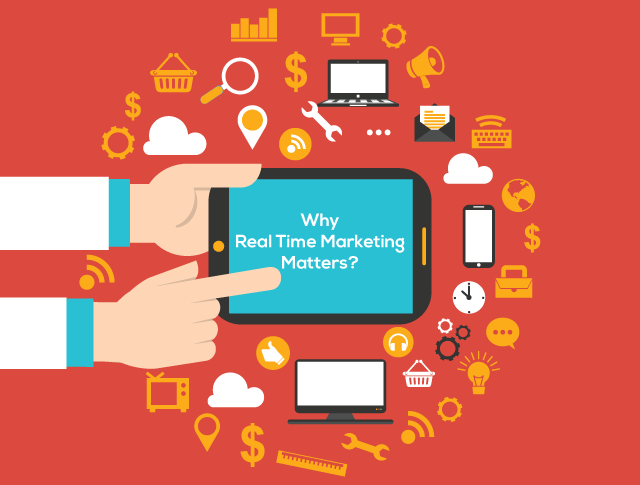 Why Real Time Marketing Matters?
Real Time Marketing is full of opportunities that can rocket launch a brand's success within a day. Real Time Marketing is those kinds of marketing approach and strategies which are executed within minutes of anything important happened. This marketing approach really matters because they provide latest updates of any news or any activity as soon as it's leaked. For example, take twitter. Twitter is a perfect place where you can find companies to take benefit of real time marketing. In the microblogging site, anything posted could be viewed by millions; and #hashtags works as a boost for that post to go viral within minutes. People eagerly wait and actively participate to fresh information, which results in brand exposure, more credibility and of course more business in coming days.
A great example or real time marketing are:
In New Orleans Super Dome, when lights went out during a super bowl in 2013, Oreo's twitter team tweeted instantly "Power Out? No Problem, You can still dunk in the dark". That's the timing they utilized as a genius.
Nasa congratulated the team of movie "Gravity" at their Oscar win in 2014 with a tweet and a sunset image from space – "congrats to #Gravity for another win at the #Oscars2014 for best Director! Here's a #RealGravity look at sunset"
Channels – Social Media, Website & Email
For Real Time Marketing, social media platforms like twitter, Facebook, YouTube have the capability to expose any brand to millions online within minutes and also these Social Media Channels Plays a Major Role in Lead Generation for your Business. The only thing is quality content. Content should be latest, fresh and updated. People love such content and they want to some credit by sharing and retweeting, so they do, resulting in more reachability and making the content a viral one.
Websites also take full benefits of RTM. Like, during live cricket matches, websites like starsports.com and espncricinfo.com are viewed by billions of people across the world, as they get the latest scores and live streaming. E-commerce websites get more reach when they announce some product launch within minutes. Like, when Flipkart signed the deal with Motorola to launch Moto G in India, they shared the news instantly resulting in thousands of inquiries and buying prospects instantly.
Also, emails are a source which can make any information exposed and viral within hours. Since emails need to be opened and accessed separately, its bit slowly than social media and websites, but it's effective. It is also limited to subscribers and collected prospect emails. But here a marketer gets statistics and calculated results.
What are the benefits of Adopting Real Time Marketing?
Increases Awareness: RMT gives many chances to a brand to become famous and a repeating name overnight. For example, on 08 November 2016, when demonetization happened in India, some digital payment companies which like Paytm and Freecharge got instant exposure to millions. People started downloading their app and they becoming the most trending name in the same night. Check these tweets by them and their followers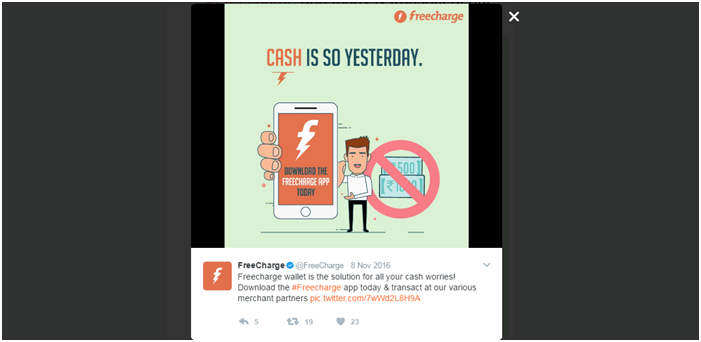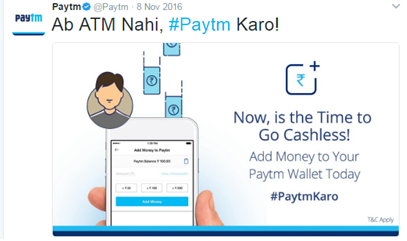 Improves customer retention: Brands that make optimum use of real time marketing are able to retain their customers for a long period of time. They get that trust from their customers which make them distinct from others. In fact, they get an increasing number of customers, no decrease only increase.
People feel Positive and recommend your brand: If a brand can share some information that is real time and fresh, makes them different from others at the same time. People start feeling your brand's organizational and people reach. They create a strong and reliable persona of your brand in their mind. They don't hesitate to share your brand named with their colleagues, friends, or anybody else.
Types of Real Time Marketing
Social Customer Relationship Management
Social CRM is a new approach to using social media and it's techniques to engage customers. Social CRM raises brand awareness by providing product services and support from social media channels itself. Since customers act and engage freely on social media than business portals and CRMs, so it's a great strategy to reach customers in their comfort zone.
Dynamic Creative Optimization
DCO is the type of real time marketing where selected ads are displayed based on certain preference factors. Like geographical area and IP address detection, marketers can analyze which ad could work better in that location. So from many created ad, for that location, specific ads will be displayed to interest the users more and gain more engagement. It's like performing A/B testing with those ads and displays that ad which could perform better for that circumstance.
Real time Content Marketing
In past few years, social media platforms are able to collect millions of user data. They also enable businesses to get valuable insights on campaigns and page performance using social analytics inbuilt tools. With those insights, businesses can analyze the performance and strategies to implement next. Generating instant content based on the insights lets them provide some good real time content marketing to their users. Since content marketing is based on the approach of what users like, enjoy and what they expect next; they get fast user engagement and quick brand recognition.
Real time ad campaign rebalancing
Balancing the ad campaign in real time can save a lot of manual process and time. After analyzing the current insights and ad performance, advertisers may want to balance the shift of costs instantly to prevent unnecessary spend. For example, in Facebook ad managers, marketers can enable certain options to automatically re-allocate ad budgets based on ads spend and performance.
Aligning Marketing with Trending topics
A great example of real time marketing could be seen when marketers focus on some trending topics and news events that social media users are currently discussing. It's like motivating the users to take further actions for that business services and products. Some examples are proposing discounts for the customers who use certain coupon codes. This motivates users to buy something at that instant as they may not get the chance to avail the coupon discounts after some time.
Real time Buying
In real time marketing, timing is the biggest factor the plays the most important role in its success. Real time buying is an artificial intelligence marketing approach where online ads are sold and bought using digital automated tools. The ad display and impression are based on some programmatically create algorithms, which is often regarded as programmatic buying. Search engine ad tools like Google Adwords and social media tools like Facebook Ad Manager, LinkedIn Ad Manager, and other social media like twitter, YouTube, Instagram and many have become effective tools for real time buying.
Strategic Business Decisions
Like earlier mentioned, social media platforms can produce millions of data of user profiles and activities. The inbuilt analytics tool generates effective insights from initiation to the current date. These insights help marketers to get in-depth ideas about their current situation and future implementing plans. They make some strategic business decisions to make changes in product development, pricing or other important business activities
RTM Themes & Occasions
Holidays
World Events
V events & shows+
Celebrities
Milestones
Time of crisis
News
Latest Craze (Viral videos)
Brand on Brand
Addressing negative comments
Converting competitors dissatisfied customers
Ride the Trends
To be effective; marketers have to foster the environment of urgency
Brand Strategies – They need to focus on their brand and apply strategies not to be different from the objective of the brand
Content Marketing – They could create any of the content like video or image to get more engagement from users. Content must deliver the interest and likes of users.
Alignment with trending topics – marketers need to stick to latest updates and news going around, whether it's global or of business niche.
Engaging Audiences at Online/Offline Events – Events are a platform where user engagement is more always. Marketers need to utilize this chance to engage with the audience during events.
RTM Preparations
Listening – Marketers need to be aware all the time and listen to the updates going around that could be beneficial for users
Showing Meaningful data – To utilize real time marketing chance, marketers don't need to get down on the track, they need to publish data that are meaningful to users
Flexible strategies & Editorial Calendars – They need to forecast some situations in future dates that could happen. This way they can make an advanced preparation of that event and can rule the market with their real time marketing strategies
Do's
Make sure the message you send out should align to your brand
Try to integrate RTM efforts with existing campaigns and trigger emotions that relate back to brands mission
Practice engaged listening- Be a natural extension of the story
Be witty, not Awkward
Be human & Authentic
Invite your customer's in
Be ready to turn off scheduled posts
Own up to your mistakes & move on
Have something unexpected
Break silos within your organization
Make RTM an everyday event
Dont's
Don't mistake innovation for impulse when you try out new things
Prioritize being first at the expense of good content
Don't be self-promotions
Don't exploit tragic or controversial events
Don't ignore negative feedback
Don't react to everything & anything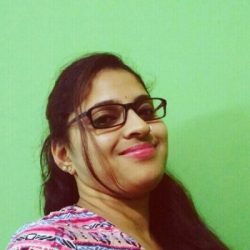 Ramya is the co-Founder @ 5ine Web Solutions Pvt Ltd, Result Oriented Digital Marketer, Lead Generating Expert, Social Marketer, SEO & Branding Expert.