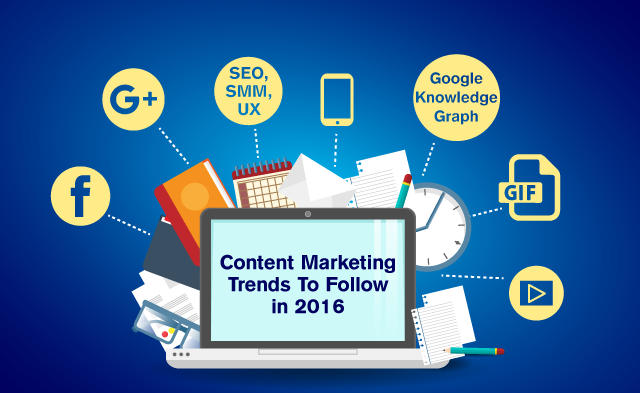 Content Marketing Trends To Follow in 2016
We are in an exciting year as far as content marketing goes. As technology brings changes in how users consume content, we see publishers also creatively adapting to these trends. Understanding impactful content marketing trends is essential while building a smarter digital marketing strategy for 2016. With technology evolving at such a rapid pace, it's natural to feel like you've gotten whiplashed trying to keep up.
To help content marketers get up to speed and stay ahead of the curve, we've cherry-picked 8 key content marketing trends that are most likely to change the content marketing landscape in 2016.
• Quality will beat Quantity hands down
With online users being inundated by news feeds, the task of achieving results through organic reach on social platforms increasingly becomes elusive. The focus would narrow down to share-worthy content. Quality content rises to the top eventually, corroborated by the fact that Facebook is bringing back old 'good quality' content in news feeds. Instead of creating a lot of content, marketers will focus on delivering value to users.
• New Publishing Options on Social Media
Social media is offering new publishing tools. By allowing people to host channel pages, social media platforms are getting massive loads of free content posted on their platform every day. For example, instant articles by Facebook now help publishers give their content more visibility in comparison to content on their native publishing platforms. In 2016, newer platforms will allow for content sharing, and publishing, free of cost.
• Content can cleverly be woven with Virtual Reality
Virtual Reality (VR) is the use of computer technology to create a simulated environment. Unlike traditional user interfaces, VR places the user inside an experience. With Facebook and Google experimenting with 360 degree walk-throughs and virtual technologies, this could be an area to experiment with. Top marketers will move beyond just beautification and improvement in content. The second half of 2016 would see more deployment of virtual reality, and with Facebook acquiring Oculus Rift, it could eventually become a norm for marketers.
• Mobile Marketing will rise
Marketers will harness the full potential of mobile marketing, not just by ensuring that all sites are mobile responsive, but by creating content specifically for different platforms and devices, as per the consumption pattern. In 2016, one size will definitely not fit all. A mobile-first approach will ensure all content is more engaging, and companies of all sizes will get smarter with technology to monitor results and drive conversions more than ever.
• Knowledge Graph will change content creation
Google Knowledge Graph will play a crucial role as search results now appear for the majority of long-tail search queries on the result page. With more opportunity to be featured prominently in Google's search results, brands will be focusing on creating content around more specific topics in the hope that Google Knowledge Graph will drive extra traffic to their website.
• Interactive content will bring engagement
Many brands have already started experimenting with visual content last year, and in 2016, we will see even more marketers using visuals for content marketing. Video and visual content will be the key to successful content marketing as more users consume content on the go using their mobile devices. So we're guessing visual content is here to stay!
• Balancing SEO, Social Media Marketing (SMM), User Experience (UX) and Analytics
A proper mix of SEO, SMM, UX and Analytics can help you reap rich awards when you value their importance equally and treat them as one instead of individual components.
• Rise of Branded Content
No one likes ads, as they seem to intrude into our spaces everywhere. 2016 will see a rise of branded content, not ads masquerading as content but genuine content that is useful, relevant and adds value to users' lives. We believe brands must become a conduit for change.
All in all, 2016 can be a year of crazy experiments. Try new features and formats, get obsessed with your users' lives and add value to every content piece. Happy Content Marketing!