Has your brand achieved gaming glory yet?
Gone are the days when games were just meant for kids. Gamification, these days, has become a vital weapon in the constantly changing and very challenging armoury of digital marketing.
Basically, gamification means using gaming techniques like scores, rewards, points, competition, etc. in a non-game context. And why does it work? It works because it allows your target audience to engage with the brand in a manner they find entertaining and enjoyable.
Simply put, it helps you cut through the barrage of promotional messages to make a memorable impact on your customers. And considering that the average Indian consumer is exposed to almost 3000 ads every single day, gamification does seem like a reliable way to market to your customers and win their preference without being one of those annoying ads they might consciously choose to ignore.
Not just popular consumer brands, but even technology and financial product brands are successfully using gamification and rewards to build a tribe of loyal customers.
You can check this presentation on Gamification to understand the basics of gamification and its importance in a brand's digital marketing strategy.
Do you recollect any successful gamification techniques used by a brand? How was your experience with the game? Do you think gamification is the right way forward? Would you prefer a social media agency that has the creative and technical capabilities to include gamification in the digital marketing strategy? Would be great to hear what you have to say.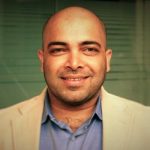 Marketer, Maven, Mentor. 3 Ms that define Siddharth Hegde, a.k.a. Sidd, Managing Director of the effervescent and ebullient Digital Marketing Agency, Ethinos. He tucks in over 18 years of sales & marketing experience under his belt, gathered from Fortune 500 and other inspiring companies that he has worked with. Sidd is a technology zealot since almost two decades, keenly tracking the interplay between technology, design, and usability across products and services. He brings to the table an industry understanding & background in digital strategy formulation & implementation. In his free time, he enjoys sailing, scuba diving, white water rafting, trekking, and seeking out the outdoors.