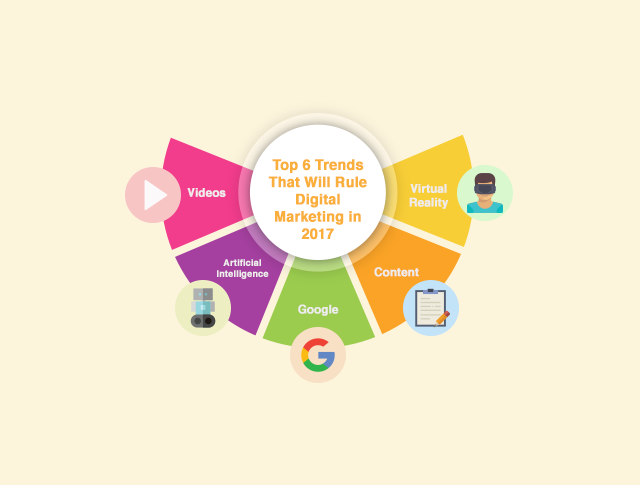 Top 6 Trends That Will Rule Digital Marketing in 2017
As we enter yet another calendar year, we set our sight towards the future, gazing at the opportunities that may come by for us marketers. Come, take a closer look at some of these.
Some of the trends that will rule digital marketing in 2017 are:
Live video is sure to go viral:
Advancements that have transpired in the area of live streaming have resulted in websites like Ustream, Livestream, and YouNow, delighting their users with this facility. Facebook, YouTube, and other platforms had earlier set the stage for this and announced the integration of mobile live streaming on their platforms. This has resulted in greater digital marketing opportunities for marketers. Live video streaming gives a real-time edge to an organization and also creates a more personal connect with viewers. Broadcasting events live on social media platforms increases a brand's visibility, and enhances its value. Through this medium, an organization can not only broadcast live events but also make special announcements or introduce new products. Similarly, they can also host live customer support Q&A rounds, engage in conversations with their audience and more. Nissan used live streaming to launch its luxury sedan Nissan Maxima in 2016.
Is artificial intelligence the future of digital marketing?
Early this year, at the World Economic Forum in Davos, along with the Internet of Things, Artificial Intelligence was declared as one of the key components of the 'fourth industrial revolution'. These revolutionary advancements are sure to dominate digital marketing in the coming year. Not just robots, but innovations like Alexa by Amazon also form a part of the vast horizon of AI. AI will facilitate understanding the consumers at a more granular level, lead to a targeted and data-driven marketing approach, and kick-off a two-way communication for marketers.
Yankee Candle Company is one of the remarkable examples of how personalized call-to-action can help you stand out. Apart from personalized call-to-action, tailored customer messages and chatbots are also a part of AI. Big e-commerce giants like Amazon and Flipkart are using AI algorithms in order to increase conversions. Interacting with a virtual assistant is getting to be fun, fast, and simple for many early adopters of this smart feature. But let's not turn a blind eye towards how bad it can get if the virtual assistants fail to live up to the set standards. Microsoft's Tay is a classic example of how an inefficient virtual assistant can backfire.
Gartner predicts that by 2018, B2B sellers that incorporate personalization into digital commerce will realize a 15% increment in revenues.
The power of personalized content creation:
A Digital Experience Survey by IBM reveals that 56 % of marketers believe that personalized content promotes higher engagement rates. Content marketing automation streamlines the process of content marketing. Non-personalized, irrelevant content sent to the audience becomes spam.
Over the past few years, viewers and readers have voted the importance of contextual content as an important element of content marketing and content strategies. It has also been revealed that video storytelling will be the key part of content marketing. Marketers will have to engage with their audience and go beyond just case studies.
Visual content is sure to receive more focus in 2017 as search engines improve the ability to read and analyze images determining what your website is all about. This calls for more gifs and creative visuals!
Virtual reality-A new dimension in digital marketing:
'Pokemon Go' game undoubtedly brought about a revolutionary change in the world of virtual reality. But unfortunately, it couldn't sustain for a prolonged period in this fast-paced digital world due to its shortcomings. None the less, it was the talk of the town that kept the audience hooked to the game for a really long time. The success of this game serves as an undeniable indicator that digital marketing is going to harness the power of virtual reality in the coming months.
From virtually wearing eyeshadows at Sephora, to virtually slipping into a Punjabi suit at BIBA, several marketers are incorporating virtual reality to gain the most from it. Its potential to integrate digital information into a consumer's real life and bring about an enhanced customer experience are two of the many true potentials of this trending technology. Another valuable aspect of augmented reality is its ability to track customer engagement within an app, analyze the usage pattern, and create a highly personalized profile of the customers. This in return strengthens the customer relationship and builds brand loyalty.
Gartner predicts that one in five major retailers will begin deploying augmented reality on their websites by the end of 2017.
Optimizing –what to watch out in search and beyond:
Needless to say, Search engine optimization plays a vital role in digital marketing. Many of us rely on Google for answers. Since a long time, Google has been using its core search algorithm to offer the most relevant and organic search results.
Schema (also known as Structured Data Markup) is becoming significantly important with the changes in Google's algorithm. Schema makes it faster and more convenient for the search engines to understand your website and increase the chances of an enhanced SERP (search engine results pages) listing. When Google receives a search request, the SERP delivers a 'Featured snipped' or 'direct answer' that's rich in content with the help of the Schema.
Google is all set to go aggressive this year:
Google is going to impose a ranking penalty on 'intrusive interstitials' (web pages that get in the way of a user's access to otherwise freely available content). This problem generally arises on mobile phones where the screens are relatively smaller. In order to enhance mobile search experience, from 10th January 2017, pages for which the content is difficult to access to a reader on their cellphones, will get hit in ranking.
So if your page has a pop-up ad that covers the prime content while browsing or a standalone interstitial that needs to be dismissed before accessing the main content, then you would want to get it off soon.
However, Google is not going to impose any penalty on 'app install banners' if they're within reasonable space limits. It will not permit a full-screen app install interstitial. This will bring back Native Advertising practices back in the market, just like when it was a few years ago.
So, here's what we are saying…
While these are trends that have been touted to bear a major influence in 2017 in the world of digital marketing, given its dynamic nature, marketers can brace themselves for the scads of advancements and innovations coming their way in the form of marketing opportunities. Keep your eyes peeled.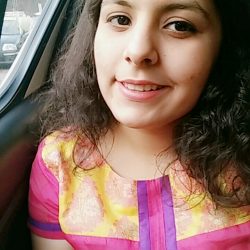 Meghal Gehani is a content trainee at Ethinos, having an insatiable thirst for knowledge