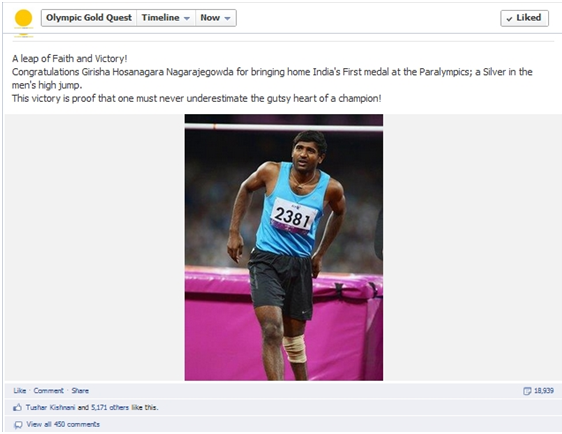 Yes! That's what's up!
We've created a new benchmark for ourselves by hitting a record of the number of interactions on our post on the Olympic Gold Quest Facebook page.
5,172 Likes, 18,939 Shares, 450 Comments, and still counting!
Apart from going about the usual business of meetings, clients, and the like, this month saw me brush-up my public speaking skills too. I addressed professionals who attended Corporate Communication and Reputation India 2012; and gave them a lowdown on social media, the numbers, the benefits, the success stories, the techniques, and more. It was interesting to meet corporate communication professionals and understand their views and perceptions; makes it a lot easier to understand them as clients!
And as the Olympics drew to a close, the excitement in our office dipped a little too. Not that the noise or entertainment levels are any lower; just that there is no crowding around one PC and collective sighs of anxiety or relief with every point. As Olympic Gold Quest and its athletes have set their sights on Rio 2016, so have we!
I had the opportunity to attend a press conference and dinner held by Olympic Gold Quest to celebrate the victories of Vijay Kumar, Mary Kom, Saina Nehwal, and Gagan Narang, in Mumbai. Was nice to congratulate them in person!!!
Our team at Ethinos has also been sharpening its B2B knowledge and skills. We've already handled one event for NASSCOM (more on that coming soon!) and are looking forward to managing the digital marketing strategy for NASSCOM's upcoming events too.
We're all set to combine strategy, technology, and creativity to make some digital magic!
"It's still magic even if you know how it's done." ― Terry Pratchett
Do you believe in the magic of the internet and social media? We'll be happy to make it work for you! Reach out for insights on your digital marketing strategy!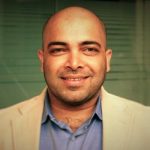 Marketer, Maven, Mentor. 3 Ms that define Siddharth Hegde, a.k.a. Sidd, Managing Director of the effervescent and ebullient Digital Marketing Agency, Ethinos. He tucks in over 18 years of sales & marketing experience under his belt, gathered from Fortune 500 and other inspiring companies that he has worked with. Sidd is a technology zealot since almost two decades, keenly tracking the interplay between technology, design, and usability across products and services. He brings to the table an industry understanding & background in digital strategy formulation & implementation. In his free time, he enjoys sailing, scuba diving, white water rafting, trekking, and seeking out the outdoors.